RELEASE DATE: Yost goes yard twice but errors plague Mansfield in losses to Bloomsburg – Katie McConville honored on Senior Day
Game One Boxscore
Game Two Boxscore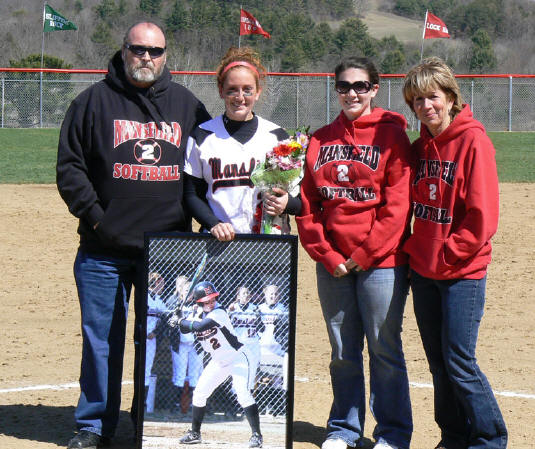 MANSFIELD – Nicole Yost hit her sixth and seventh home runs of the season but it wouldn't be enough to compensate for a total of six Mountaineer errors as #19 Bloomsburg swept a PSAC Central doubleheader 5-3, 9-3 Saturday afternoon at Helen Lutes Field.
It was also Senior Day with Mansfield's sole senior Katie McConville honored in a between game ceremony.
In the opener, Bloomsburg scored a run in the top of the second before Mansfield scored three in the bottom of the third on a towering two-run home run by Yost over the centerfield fence and run scoring single by Gabby Carrullo.
Bloomsburg tied the game with two runs in the top of the fifth on a two-run double by Lacy Mauro.
Bloomsburg scored the winning two runs off an error with two outs in the top of the sixth.
Megan Trutt went 3-4 for Mansfield while Yost hit her sixth home run of the season. Melissa Baer pitched well going the distance and scattering eight hits while striking out five.
In the nightcap, Bloomsburg scored five unearned runs off four Mansfield errors. Mansfield closed the gap to 5-3 in the bottom of the inning keyed by a two-run home run by Yost.
Bloomsburg added three more runs in the fourth inning to put the game out of reach.
Yost, who was walked three times, hit her seventh home run of the season and fourth in the last seven games. Trutt went 2-4.
Mansfield will close out the regular season with home doubleheaders against Clarion on Tuesday and IUP on Friday.
GAME ONE
Bloomsburg 010 022 0 5-8-0
Mansfield 003 000 0 3-6-2

Bloomsburg (25-4, 10-1 PSAC Central): Tara Reed (W, 11-4) and Lacy Mauro
2b – Laura Mauro, Lori Neyhard, Shayla Esgro RBI – Mauro 2, Danielle Lazorka, Jenna Hampton
<![if !supportLineBreakNewLine]>
<![endif]>
Mansfield (11-16, 3-8 PSAC Central): Melissa Baer (L, 4-7) and Jen Stein
2b – Megan Trutt HR – Nicole Yost (6)
RBI – Yost 2, Gabby Carrullo

GAME TWO
Bloomsburg 005 301 0 9-9-4
Mansfield 003 000 0 3-4-5
Bloomsburg (26-4, 11-1 PSAC Central): Shavaun Fisher (W, 12-1) and Lacy Mauro
2b – Mandy Leach HR – Tara Reed (4)
RBI – Reed 2, Jenna Hampton 2, Danielle Lazorka, Mauro, Lori Neyhard
Mansfield (11-17, 3-9 PSAC Central): Kami Bishop (L, 7-9), Melissa Baer (4) and Erin Carroll
HR – Yost (7) RBI – Yost 2