RELEASE DATE: 3/04/09
FOR IMMEDIATE RELEASE: Mansfield softball improves to 4-0 with sweep in Myrtle Beach – freshman Kami Bishop earns third straight win – McConville and Polk homer in game two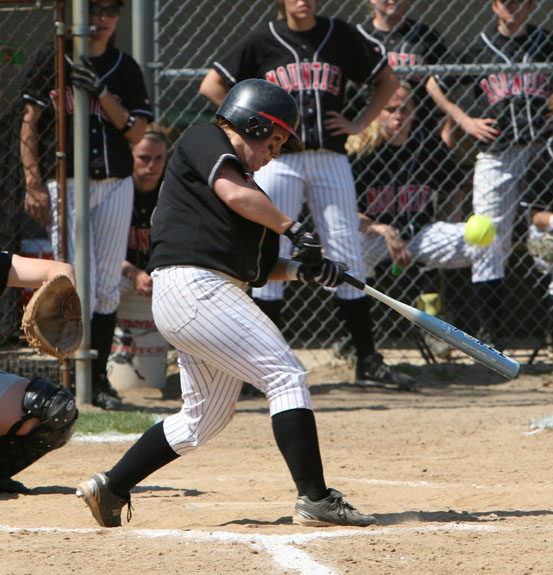 MYRTLE BEACH, SC – Freshman Kami Bishop picked up her third win of the season in the opener and Katie McConville homered and drove in five runs in the nightcap as Mansfield beat Alvernia 7-3 and Thiel 14-1 at the Fastpitch Classic in Myrtle Beach Wednesday.
Bishop went the distance in the opener scattering five hits and striking out 10 while walking two. Mansfield scored three runs on a double by Janelle Antes in the third before Erin Carroll broke open a 3-3 tie with a three-run home run in the sixth.
Melissa Baer went the distance against Thiel allowing three hits while striking out seven in a five-inning contest. Mansfield scored in every inning including a three-run home run by Freshman Aundraa Polk in the first and a three-run home run by McConville in the third.
Jamie Castellano went 4-4 from the plate while Nicole Yost was 3-4.
Mansfield will have a travel day tomorrow before finishing the southern swing with five games at Francis Marion this weekend.
Game 1
Alvernia 000 102 0 3-5-1
Mansfield 003 004 x 7-4-1
Alvernia (2-1): Michelle Jensen (L) and Samantha Geisinger
2b – Dina Chiappelli, Lauren Crimi RBI – Crimi 2, Geisinger
Mansfield (3-0): Kami Bishop (W, 3-0) and Erin Carroll
2b – Janelle Antes HR – Erin Carroll (1)
RBI – Carroll 3, Antes 3, Ashley Gaisser
Game 2
Thiel 100 00 1-3-1
Mansfield 434 12 14-13-1
Thiel (0-3): Emily Batiz (L), Ashley McLimans (3) and Becky Betteridge
2b – Laura Davin, Stephanie Smith RBI – Smith
Mansfield (4-0): Melissa Baer (W, 1-0) and Jen Stein
2b – Stein, Nicole Yost HR – Katie McConville (3), Aundraa Polk (1)
RBI – McConville 5, Yost 3, Polk 3, Jamie Castellano, Megan Truitt