RELEASE DATE: 3/15/08
FOR IMMEDIATE RELEASE: Softball rally falls short in 5-4 loss at St. Andrews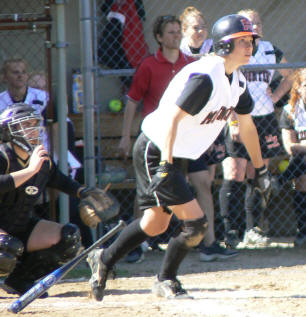 LAURINBURG, N.C – Shana Markwis hit a solo home run in the top of the sixth to close the gap to one run but Mansfield could pull no closer in a 5-4 setback at St. Andrews at Laurinburg, NC Saturday afternoon
St. Andrew scored the games first five runs under threatening skies before Mansfield started to battle back.
The Mountaineers closed the deficit to 5-3 with three runs in the top of the fourth before the game was delayed for 30 minutes due to lightning. Senior Amanda Lewis (Stamford, Conn.) started the comeback attempt with an RBI-double; classmate Shana Markwis (Milford, Pa.) followed with an RBI-fielders choice; and freshman Janelle Antes (Elizabethville, Pa.) capped the rally with an RBI-infield single.
After the sun came back out, Markwis inched the visitors to within one run, 5-4, with a leadoff home run in the sixth. However, Markwis' solo shot was the last hit for Mansfield.
Senior Whitney Brown (Troy, Pa.) was tagged for the loss allowing the two-run homer by Shurtleff. Classmate Lindsay Knapp (Millerton, Pa.) tossed the final four innings in relief of Brown giving up three runs (zero earned) on one hit and four walks.
Mansfield had several opportunities to score more runs but left 11 runners on base. Markwis had two of the Mountaineers four hits.
Mansfield closes out its Spring Break trip with a 6-3 record and outhit their opponent in all three losses.