RELEASE DATE: 3/9/08
FOR IMMEDIATE RELEASE: Mountaineer softball expects big improvement in 2008 -- Mansfield opens 2008 season at Snowbird Invitational Monday in Myrtle Beach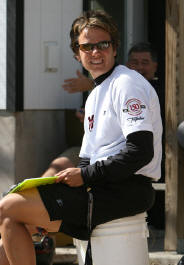 MANSFIELD -- A senior laden Mansfield University softball team expects to show a lot of improvement when the Mountaineers open the 2008 season against Charleston University (WV) and Penn State-Harrisburg on Monday at the Snowbird Invitational is Myrtle Beach, SC on Monday.
Last season the Mansfield University softball team had only two seniors and many junior college transfers without the experience of playing division two softball. What a difference a year makes.
This season the softball team features seven seniors and many players returning with playing experience as well as a freshmen class that is expecting to contribute playing time.
"Last year we had so many transfers, the leadership that we have this year has been a tremendous help to get the rookies at the playing level we need them at," head coach Edith Gallagher said. "Our seniors are going to make some significant contributions this year."
The team has three senior pitchers on staff that have a wealth of experience. Michelle Forsburg was a transfer last year and became the leader of staff winning all seven games for the Mountaineers last season. Lindsay Knapp and Whitney Brown both have pitched a significant amount of innings in the past. "Having three pitchers gives the whole team confidence to whatever pitcher we put out there they know they can pitch a great ball game and will be in the game," Gallagher said. "Right now between our one through three pitchers it has been a battle to see who the one, two and three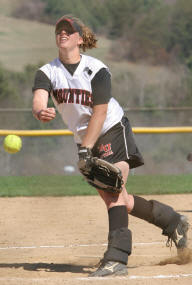 pitchers are going to be, which is nice to see."
Gabriella Carrullo and Melissa Baer will give the pitching staff depth.
A new edition to the team has been assistant coach Angie Stackhouse. Stackhouse is in charge of the pitchers and catchers. "The pitchers and catchers have made significant gains the last half year," Gallagher said. "Having coach Stackhouse has given us the ability to have individual workouts which we weren't able to do before."
Offensively, the Mountaineers return their top two threats in senior outfielder Shana Markwis and shortstop Jess Christ. The duo was either first or second in all major offensive categories including average, at bats, runs scored and hits. "We didn't have a lot of help in the batting order last year and teams were able to pitch around them" Gallagher said. "This year the big change is to give them more support in the line up."
Senior first baseman Amanda Lewis and sophomore infielder Gabriella Carrullo are two players who are expected to step up this season. "Amanda is swinging the bat tremendously and has made a tremendous transition this year while Carrullo has been doing a great job as well," Gallagher said. "We have a couple of rookies who will fill in some gaps for us."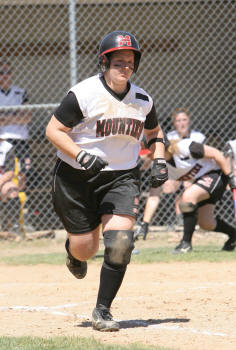 The Mountaineers have several upperclassmen returning on the infield but the third baseman is still up for grabs between junior Katie McConville and freshman Sarah Cullen. Markwis will move from centerfield to leftfield while freshman Megan Trutt will take over center. "Shana originally played left and that is a better position for her to use her speed and quickness," Gallagher said. "To keep a freshman like Trutt in center for four years will be a help."
Janelle Antes will add depth to the infield.
Another freshman Nicole Yost and junior Danielle Kiernan can also play the outfield while Brown can play right field when she's not pitching.
Ashley Gaisser started in 23 games last year and will see time in the outfield or at first base.
Kristina Poore started in 36 games last years and returns at catcher but Jen Stein and Jennifer Messner could see time behind the plate.
"Our goals for the year are to win 20 plus games and return to the playoffs," Gallagher said.
The softball team will open its season against North Carolina Wesleyan at the Snowbird Tournament in Myrtle Beach, South Carolina and will open up PSAC East play March 28 when they host West Chester at 2 p.m.