RELEASE DATE: 3/10/08
FOR IMMEDIATE RELEASE: Lindsey Knapp throws no-hitter in 24-0 win over Penn State – Harrisburg and Whitney Brown has five-hit shutout in 2-0 win over Charleston in 2008 softball opener in Myrtle Beach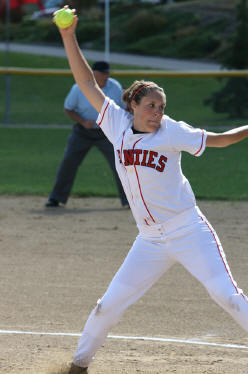 MYRTLE BEACH, SC – Senior Lindsey Knapp (Millerton/Elmira Notre Dame) threw a no-hitter in a 24-0 win over Penn State – Harrisburg and fellow senior Whitney Brown (Troy/Troy) recorded a five-hit shutout over Charleston (WV) as Mansfield opened the 2008 softball season at the Snowbird Invitational in Myrtle Beach, SC Monday.
Knapp threw the no-hitter in the Mountaineers second game of the day, striking out nine and walking one in the five inning contest. Jess Christ (Dover/Dover) went 4-4 with 4 RBI's to lead the Mansfield offense.
In the opener, Brown went all seven inning in picking up the shutout. She scattered five hits while striking out four. Christ was 2-3 with freshman Nicole Yost (Antes Fort/Jersey Shore) went 2-2 and drove in a run. Amanda Lewis (Stamford,CT/West Hill) doubled to drive in the winning run.
Mansfield will play Arcida and Russell Sage on Tuesday.
Box scores not available until Tuesday