RELEASE DATE: 10/20/08

FOR IMMEDIATE RELEASE: Mansfield Softball Team earns Academic Honors – Mountaineer team post 25th highest team grade point average of the 264 NCAA Division II softball programs – Shana Markwis, Melissa Baer, Michelle Forsburg, Janelle Antes and Amanda Lewis earn NFCA Scholar-Athlete honors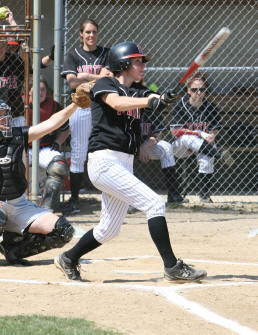 MANSFIELD -- The Mansfield University women's softball team is one of 57 NCAA Division II squads to earn National Fastpitch Coaches Association (NFCA) All-Academic Team recognition for the 2008 season, while five Mountaineer players, Shana Markwis (Milford/Delaware Valley), Melissa Baer (Williamsport/Williamsport), Michelle Forsburg (Vestal,NY/Vestal), Janelle Antes (Elizabethville/Upper Dauphin) and Amanda Lewis (Samford,CT/ West Hill) were named NFCA Scholar-Athletes.
The 2008 Mountaineers compiled a 3.26 cumulative grade-point average and were ranked 25th among Division II programs. There are 264 Division II NCAA Softball programs.
The All-Academic Team listings are based on cumulative team grade-point averages submitted by NFCA member head coaches for the 2007-08 academic year.
"As a college head coach, you strive for the true balance – success on the playing field and in the classroom," said Mansfield head coach Edith Gallagher. "Our team achieved this feat and they are true examples of a 'student-athlete.' As in winning games, this academic award is truly a team effort."
The five players who earned individual recognition were senior outfielder Shana Markwis, senior pitcher Michelle Forsburg, senior first baseman Amanda Lewis, freshman pitcher Melissa Baer and freshman infielder Janelle Antes.
To be eligible for the team, players must have compiled a 3.5 grade point average (or higher) for the past (2007-08) academic year. Markwis and Forsburg are two-time honorees, while Baer, Antes and Lewis are first time honorees.
Over the past four years, the MU softball program has garnered 16 NFCA Scholar-Athlete awards.