Release Date: 4/5/08
For Immediate Release- Mansfield softball falls in doubleheader to East Stroudsburg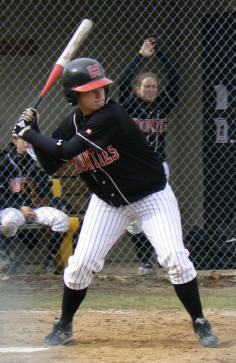 Mansfield- The Mansfield softball team managed just one run in 14 innings against Kristen Halvorsen and Jackie Battaglino falling 4-1 in nine innings in game one and 2-0 in game two in the PSAC East contest.
The Mountaineers got on the board first in game one on a home run to left field by Janelle Antes. It was the first home run of her career.
East Strousburg tied the score in the fourth inning when Missy McAloon walked with the bases loaded to score pinch-runner Alicea Ashe.
The game remained tied until the top of the ninth. Brittany Racek hit a one out homer to left center field and the Warriors tacked on two insurance runs for the 4-1 win.
Halvorsen went the distance allowing six hits and striking out five. Ali Hale had three hits for the Warriors.
Megan Trutt had a single and double for the Mountaineers.
Game two was a pitchers dual between Whitney Brown and Battaglino. The game remained scoreless until the top of the sixth. Racek singled to start off the inning, stole second and advanced to third on a wild pitch. Candice Pastor reached on a fielders choice and was pinch run for by Ashe. Ashe stole second and Eliza Morosco drove single to center field driving in Racek and Ashe for the games only runs.
Mansfield had an opportunity in the bottom of the sixth when Jess Christ started with a one out single down the left field line. Jen Stein reached on an error to advance Christ to second. Gab Carrullo singled to right field but Christ was thrown out at home by right fielder Kara Darcey.
Battaglino threw a complete game allowing five hits with just one walk and six strikeouts. Brown took the loss also going the distance giving up just two runs on five hits and striking out six.
Hale went 2-3 for East Stroudsburg while Antes had two hits for Mansfield.
The Mountaineers will travel to Bloomsburg on Tuesday April 8 for a doubleheader against the Huskies.