RELEASE DATE: 4/11/08
FOR IMMEDIATE RELEASE: Mounties sweep Shippensburg – Troy's Whitney Brown twirls six-hit shutout in opener – Williamsport's Melissa Baer gets win in relief in nightcap
Game One Box Score
Game Two Box Score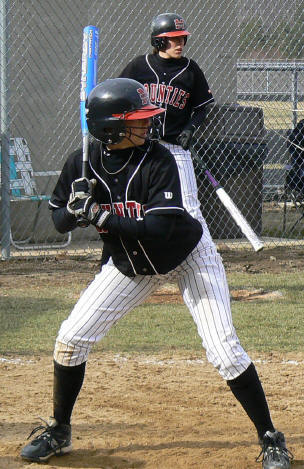 SHIPPENSBURG – Whitney Brown twirled a six-hit shutout in the opener and Jess Christ's RBI single capped off a five run rally in the top of the sixth in the nightcap as Mansfield swept Shippensburg 1-0, 8-7 in a PSAC East doubleheader at Robb Field Friday afternoon.
Brown was able to keep Shippensburg's batter off balance most of the game retiring 10 batters on ground balls while striking out one.
She pitched out of trouble three times including with the bases loaded in the sixth and with two runners on in the seventh.
Mansfield scored the game's only run in the top of the fourth inning when Shana Markwis led off with a bunt single and moved to second on a sacrifice bunt by Janelle Antes. She advanced to third on a single by Christ and scored on a wild pitch.
Chris had two of Mansfield's four hits in the game.
In the nightcap, the game was tied at 2-2 before Shippesburg scored twice in the fourth. Mansfield countered with a run in the fifth when Antes led off with a double and later scored on a sacrifice fly from Megan Trutt.
Shippensburg scored twice more in the bottom of the fifth to take a 7-3 lead into the top of the sixth inning.
But Mansfield would score five runs in the sixth, two coming off a single by Markwis, to take a 8-6 lead. Shippensburg scored once in the bottom of the sixth to close the gap to 8-7 but freshman Melissa Baer (Williamsport/Williamsport), who entered the game in relief the fifth inning, retired the final three batters in order to improve her record to 3-0 on the season.
Antes went 2-for-4 with a double, home run and two RBI while Markwis and Amanda Lewis each drove in two runs.
Moira Johnsen was 2-for-4 with two RBI for Shippensburg.
Mansfield improves to 9-12 overall and 3-9 in the PSAC East.
The Mountaineers will host West Chester in a doubleheader Sunday at Helen Lutes Field starting at 1 p.m.
GAME ONE
Mansfield 000 100 0 1-4-2
Shippensburg 000 000 0 0-6-0
Mansfield (8-12, 2-9 PSAC East): Whitney Brown (W, 4-6) and Jen Stein
2b – Jess Christ
Shippensburg (22-17, 5-6 PSAC East): Danielle Shields (L, 10-6) and Rachelle Wedell
<![if !supportLineBreakNewLine]>
<![endif]>
GAME TWO
Mansfield 110 015 0 8-7-3
Shippensburg 110 221 0 7-11-1
Mansfield (9-12, 3-9 PSAC East): Lindsey Knapp, Melissa Baer (5) (W, 3-0) and Kristina Poore
2b – Janelle Antes HR – Antes (2) RBI – Antes 2, Shana Markwis 2, Amanda Lewis 2, Jess Christ, Megan Trutt
Shippensburg (22-18, 5-7 PSAC East): Lori Knopf, Jill Kirby (6) (L, 3-5) and Wedell
2b – Chelsea Carson 3b – Moira Johnsen RBI – Johnsen 2, Hope Cornell, Lisamarie Ramagli, Amanda Bardo, Wedell