RELEASE DATE: 3/13/08
FOR IMMEDIATE RELEASE: Mansfield wraps up Snowbird Invitational with split – Mounties beat Penn State – Altoona 10-0 and drop 4-3 heartbreak to Charleston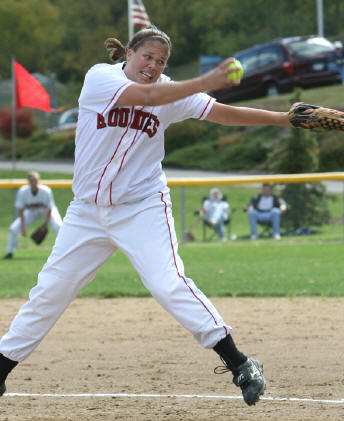 MYRTLE BEACH, SC – Lindsey Knapp (Millerton/Notre Dame) threw a two-hit shutout to pace Mansfield to a 10-0 win over Penn State – Altoona in the opener and Mansfield left the bases loaded in the nightcap in the seventh inning in a 4-3 loss to Charleston at the Snowbird Invitational in Myrtle Beach, SC.
Mansfield wraps up the tournament with a 6-2 record and outscored opponents 75-9.
Knapp improved to 2-1 with her second shutout of the young season. She stuck out eight and walked none. Knapp has now stuck out 25 batters in 17 innings worked.
Janelle Antes (Elizabethville/Upper Dauphin), Gabriella Carrullo (Chalfont/Central Bucks South), Amanda Lewis (Stamford,CT/West Hill) and Nicole Yost (Antes Fort/Jersey Shore) had two hits apiece to lead the offense with Lewis and Yost each hitting doubles. Yost also drove in three runs.
In the nightcap, Charleston took a 1-0 lead in the bottom of the first before Mansfield starter Whitney Brown (Troy/Troy) retired the next 13 batters in order.
Mansfield scored three runs with two outs in the top of the fifth inning on a three-run home run by Shana Markwis (Milford/Delaware Valley).
But Charleston rallied for three runs in the bottom of the sixth to take a 4-3 lead.
Mansfield loaded the bases in the top of the seventh with one out but couldn't push across the tying run.
Brown was tagged with the loss giving up four hits and striking out four before being relieved by Knapp with two outs in the sixth.
Mansfield will play a single game at St. Andrew's Presbyterian College in North Carolina on the way back Saturday.
GAME ONE
PS – Altoona 000 00 0-2-5
Mansfield 032 5x 10-11-0
PS-Altoona: E. Cummings (L), L. Laudermil (3) and K. Myers
Mansfield (6-1): Lindsey Knapp (W, 2-1) and Kristina Poore
2b – Amanda Lewis, Nicole Yost
RBI – Yost 2, Michelle Forsburg, Gabriella Carrullo, Megan Trutt, Poore, Katie McConville
GAME TWO
Mansfield 000 030 0 3-6-0
Charleston 100 003 x 4-4-2
Mansfield (6-2): Whitney Brown (L, 2-1), Knapp (6) and Jen Stein
HR – Shana Markwis (1) RBI – Markwis 3
Charleston: S. Rossman (W) and M. Faunda
2b – M. Sabelhaus 2 RBI – M. Vargas 3, M. Ferriera