RELEASE DATE: 4/18/2008
FOR IMMEDIATE RELEASE: Knapp's threw gem in opener against Millersville
Game One Box Score
Game Two Box Score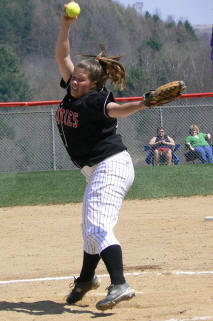 MANSFIELD – Lindsey Knapp (Millerton/Elmira Notre Dame) threw a complete game five-hitter in the opener and threw two scoreless innings in the nightcap to pick up the win as Mansfield swept Millersville 3-2, 11-5 in a PSAC East doubleheader at Helen Lutes Field Friday afternoon.
In the opener, Knapp had a strong performance on the mound for Mansfield pitching a five-hit complete game and allowing no earned runs. She struck out four while walking none.
Mansfield scored a run in the first when Shana Markwis led off the inning with a single to right field and Janelle Antes followed with an RBI double to left.
Millersville took the lead with two unearned runs in the second before Mansfield scored two in the bottom of the third when Nicole Yost and Kristina Poore delivered back-to-back RBI singles to give Mansfield lead for good.
Knapp pitched out of trouble in the fifth and sixth stranding two runners in each inning before a 1-2-3 outing in the seventh including a game-ending strikeout.
Yost went 2-for-3 with an RBI while Antes and Amanda Lewis both had doubles. Maria Polyak drove in both of Millersville runs.
In the nightcap, Mansfield scored six runs in the bottom of the sixth inning to rally for an 11-5 win. Three of those runs came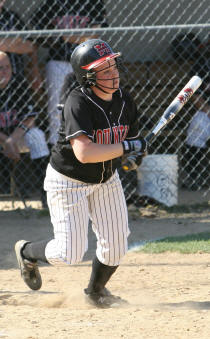 off Megan Trutt's second home run of the season. Freshmen Sarah Cullen and Janelle Antes each had RBI singles in the inning and Jess Christ drove in another with a sacrifice fly.
Cullen went 2-for-3 with a home run and three RBI while Nicole Yost and Jen Stein also had two hits apiece.
Knapp picked up her second win of the day coming in relief in the top of the sixth with the bases-loaded and no outs. Knapp went 2.0 innings giving up two hits and no runs while striking out two.
For the afternoon, Knapp threw nine innings allowing seven hits and no earned runs while striking out six and walking none to improve to 5-5 on the season.
Mansfield moves past Millersville into sixth place in the PSAC East with a 6-12 conference mark. The Mountaineers are 12-15 overall.