RELEASE DATE: 4/16/08
FOR IMMEDIATE RELEASE: Softball falls twice to #10 Kutztown
Game One Box Score
Game Two Box Score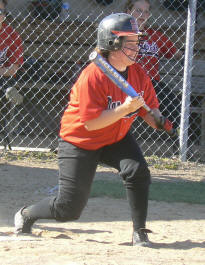 MANSFIELD – Mansfield couldn't get on the scoreboard in falling to #10 ranked Kutztown 8-0, 6-0 in a PSAC East doubleheader at Helen Lutes Field Wednesday afternoon.
Shana Markwis had a leadoff single in the bottom of the first but Mansfield would get another run on base until Megan Trutt doubled in the fourth. They were the only two hits the Mountaineers would manage off winter Katlin Arbogast who picked up her 17th win of the season.
In the nightcap, Lindsey Knapp allowed just five hits but was plagued by six walks. Kristina Poore had two of the Mountaineers four hits.
Kutztown (38-6, 15-1) was led by Ashley Fitzgerald who drove in three runs and hit her 14th home run of the season.
Mansfield host Bloomsburg this Friday starting at 2 p.m. at Helen Lutes Field.
GAME ONE
Kutztown 200 42 8-12-0
Mansfield 000 00 0-2-3
Kutztown (34-6. 14-1 PSAC East): Katlin Arbogast (W, 17-4) and Ashley Fitzgerald
2b – Fitzgerald 2, Maggie Reifsnyder HR – Steph Denlinger (11), Krista Cameron (5)
RBI – Fitzgerald 4, Denlinger 2, Cameron 2
Mansfield (10-14, 4-11 PSAC East): Whitney Brown (L, 4-8), Michelle Forsburg (4) and Jen Stein
2b – Megan Trutt
GAME TWO
Kutztown 220 000 2 6-5-0
Mansfield 000 000 x 0-4-2
Kutztown (35-6, 15-1 PSAC East): Mary Hoch (W, 9-0), Monica Glomb (6) and Caitlin Hague
HR – Fitztgerald (14) RBI – Fitzgerald 3, Reifsnyder
Mansfield (10-15, 4-12): Lindsey Knapp (L, 3-5) and Kristina Poore