RELEASE DATE: 3/29/08
FOR IMMEDIATE RELEASE: Mountie softball drops a pair of one-run game in PSAC East opener at #17 Kutztown
Game One Box Score
Game Two Box Score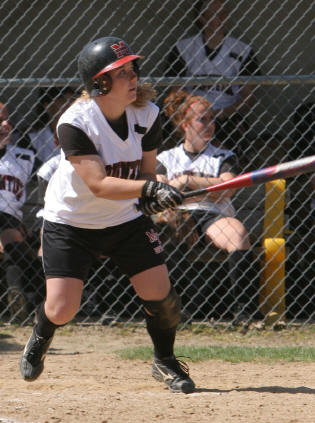 KUTZTOWN – Jen Stein (WilliamsportWilliamsport) drilled a three-run home run in the opener but it wouldn't be enough as Mansfield dropped a pair of 4-3 decisions at #17 Kutztown Saturday afternoon in the Mountaineers PSAC East opener.
Despite being off for the last two weeks the Mountaineers played well in the opener against nationally-ranked Kutztown.
Kutztown broke up a 0-0 tie with three runs in the bottom of the fourth and added another run in the fifth before Mansfield got on the scoreboard. Freshman Janelle Antes (Elizabethville/Upper Dauphin) led off the top of the six with a walk and advanced to second on a single by Jess Christ (Dover/Dover). Stein the drilled her second home run of the season to cut the lead to 4-3. Mansfield had two more runners reach base in the inning but couldn't push across the tying run.
Mansfield also threatened in the top of the seventh, loading the bases with two outs.
Whitney Brown (Troy/Troy) started on the mound for the Mountaineers scattering four hits and striking out five before giving way to Lindsey Knapp (Millerton/Notre Dame) in the sixth.

Mansfield held a 5-4 advantage in hits with Christ going 2-4.
Katlin Arbogast went 5.1 innings for Kutztown to improve to 14-3 on the season.
In the nightcap, Knapp started and went the first three innings before being relieved by Michelle Forsburg (Vestal,NY/Vestal). Knapp re-entered as the pitcher relieving Forsburg in the sixth and was charged with the loss.
Mansfield tied the game at 1-1 when Katie McConville (Lake Ariel/West Wayne) scored on a passed ball.
Kutztown (27-5, 4-0)retook the lead in the bottom half of the inning on a two-run double by Steph Denlinger.
Mansfield closed the gap to 3-2 with a run in the sixth on an RBI single by Christ and tied the game at 3-3 in the seventh when freshman Nicole Yost (Antes Fort/Jersey Shore) led off with a double down the left field line and would later score on an error.
Kutztown won the game in the bottom of the seventh with a two-out single by Maria Schiavo scoring the winning run.
Mansfield left 12 runners on while Kutztown stranded 14.
Christ led the Mansfield offense going 2-4 with an RBI.
Mansfield (6-5, 0-2 PSAC East) travels to West Chester for a doubleheader on Sunday.
GAME ONE
Mansfield 000 003 0 3-5-2
Kutztown 000 310 x 4-4-0

Mansfield (6-4, 0-1 PSAC East): Whitney Brown (L, 2-3), Lindsey Knapp (6) and Jen Stein
HR – Jen Stein (2) RBI – Stein 3
Kutztown (26-5, 3-0): Katlin Arbogast (W, 14-3), Monica Glomb (s-2) and Ashley Fitzgerald
2b – Fitzgerald 2 RBI – Caitlin Hague, Fitzgerald, Krista Cameron
GAME TWO
Mansfield 000 101 1 3-5-1
Kutztown 010 200 1 4-12-2
Mansfield (6-5, 0-2 PSAC East); Lindsey Knapp (L, 2-2), Michelle Forsburg (4) and Kristina Poore
2b – Nicole Yost RBI – Jess Christ
Kutztown (27-5, 4-0 PSAC East): Monica Glomb (W, 6-2), Mary Hoch (3) and Caitlin Hague
2b – Krista Tedjeski, Steph Denlinger RBI – Denlinger 2, Kim Morrison, Maria Schiavo