RELEASE DATE: 3/11/08
FOR IMMEDIATE RELEASE: Mansfield softball stays undefeated with sweep in Myrtle Beach – Mounties beat Arcadia 8-1 and shutout Russell Sage 12-0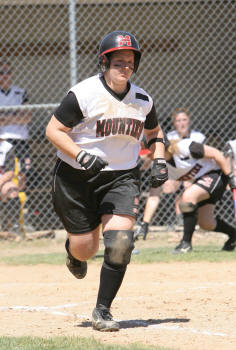 MYRTLE BEACH, SC – Whitney Brown (Troy/Troy) scattered four hits and stuck out 11 in a 12-0 win over Arcadia and Melissa Baer (Williamsport/Williamsport) stuck out eight in 4 2/3 innings in her first collegiate start in a 12-0 Russell Sage at Myrtle Beach, SC Tuesday.
Brown picked up her second win in two days with a dominating performance, allowing no walks in addition to her impressive strikeout total.
Mansfield pounded out 12 hits in the game with senior Jess Christ (Dover/Dover) going 3-4 with three doubles and two RBI's. Jen Stein (Williamsport/Williamsport) belted a solo home run while freshmen Sarah Cullen (Landing,NJ/Hopatcong) and Janelle Antes (Elizabethville/Upper Dauphin) each had two hits.
Baer was impressive on the mound in her collegiate debut scattering four hits and walking none over 4 2/3 innings with eight strikeouts. Gabriella Carrullo (Chalfont/Central Bucks) came in relief for the final out in a game that ended after five innings.
Senior Shana Markwis (Milford/Delaware Valley) went 4-4 from the plate with a double, scored three runs and drove in one. Janelle Antes was 2-4 with a triple, three runs and two RBI.
Mansfield improves to 4-0 on the season and plays Sweet Briar and Pitt-Greensburg on Wednesday.
GAME ONE
Arcadia 000 100 0 1-4-1
Mansfield 311 102 4 8-12-1

Arcadia: Kellie Reese (L), Amanda Ryan (4) and Kristen Burns
HR – Virginia Buechel RBI – Buechel
Mansfield (3-0): Whitney Brown (w, 2-0) and Jen Stein
2b – Jess Christ 3, Sarah Cullen HR – Stein
RBI – Christ 2, Shana Markwis, Janelle Antes, Stein, Cabriella Carrullo, Cullen
GAME TWO
Russell Sage 000 00 0-4-1
Mansfield 320 7x 12-14-0
Mansfield (4-0): Melissa Baer (W, 1-0), Gabriella Carrullo (5) and Kristina Poore, Jennifer Messner (4)
2b – Shana Markwis 2, Messner, Katie McConville 3b – Janelle Antes
RBI – Antes 2, Nicole Yost 2, McConville 2, Christ, Stein, Markwis, Megan Trutt, Danielle Kiernan, Messner
<![if !supportLineBreakNewLine]>
<![endif]>