Release Date: 3/30/08
For Immediate Release: Mansfield softball swept by West Chester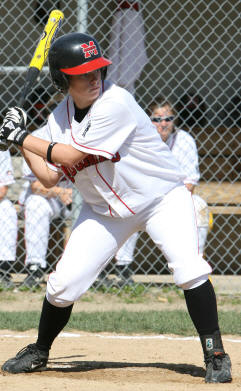 West Chester- The Mansfield University softball team dropped a pair of games at West Chester Sunday afternoon falling 3-0 and 4-2.
In game one, West Chesterís Shannon Padula threw a complete-game shutout allowing just four hits and striking out six. The Mountaineers only threat was in the sixth inning when Janelle Antes started a two out rally with an infield single. Jess Christ reached on an error and Jen Stein singled to center but Antes was thrown out at home to end the inning.
West Chester jumped out to a 3-0 lead in game two, but Mansfield fought back with two runs in the top of the fourth. Christ led off the inning with a double and scored on a double by Stein. Nicole Yost singled to advance Stein to third and Stein scored on a sacrifice fly by Michelle Forsburg. The Mountaineers got runners on second and third but pinch hitter Gab Carrullo lined out to centerfield to end the inning.
The Mountaineers didnít get a hit the rest of the game. Padula also pitched the second game again going all seven innings allowing the two runs with no walks and six strikeouts. Jamie McComb was 2-3 with 2 RBI while Stefani Kerbacher was 3-3 with two runs scored.
Nicole Yost and Megan Trutt had two hits apiece for the Mountaineers.
West Chester improves to 21-6 on the season and improves their school record winning streak to 17 games. The Mountaineers fall to 6-7 on the season and will travel to Millersville on April 4 for a doubleheader with the Marauders.