RELEASE DATE: 3/25/07
FOR IMMEDIATE RELEASE: Mounties Split Pair of Extra Inning Games at WV Wesleyan Tournament
SALEM, VA – Kristina Poore hit an RBI single in the eighth inning to score Jess Christ as the Mountaineer softball team secured a 6-5 victory over Shepherd College at the West Virginia Wesleyan Tournament in Salem, Virginia Sunday afternoon. Mansfield dropped their second game of the day in a nail-biter falling 2-1 to IUP in extra innings.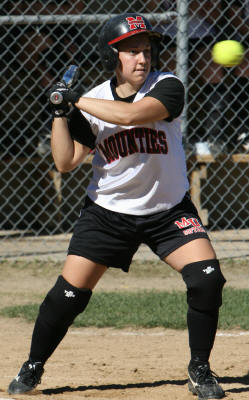 Shelly Forsburg picked up her third win of the season after throwing a complete game against Shepherd.
Jess Christ led the Mountaineers at the plate belting out a homerun and a double while scoring the winning run. Gabriella Carrullo, Christ, Poore, and Katie McConville all had RBI's for the Mountaineer women.
Shana Markwis led off the second game of the day with a homerun against IUP. That run would be the only Mountaineer run in the contest. IUP scored one run in the second inning before going scoreless for the duration of the seven inning contest. IUP notched one run in the eighth to secure the victory.
Whitney Brown picked up the loss on the mound after Christine Ross started the contest and earned a no decision.
The Mountaineers are back in action on Saturday, March 31 when they host Millersville University in the home opener. Game one is scheduled for 1:00 pm.
Game One
Mansfield 000 041 01 6-10-1
Shepherd College 010 202 00 5-13-0
Mansfield (3-11): Shelly Forsburg (W, 3-5) and Kristina Poore
2b -- Christ
HR -- Christ
RBI – Carrullo-2, Christ, McConville, Poore
Shepherd : Zappacosta (L) and Oskoskey
2b – William, Johnson
RBI – William, Zappacosta, Walsh, Oskoskey
Game Two
IUP 010 000 01 2-8-0
Mansfield 100 000 00 1-5 -0
IUP: Dunsmoor (W) and Tripoli
RBI – Lewis, Toettman
Mansfield (3-12): Christine Ross, Lindsay Knapp (2), Whitney Brown (7, L) and Poore
HR – Markwis
RBI – Markwis