RELEASE DATE: 3/24/07
FOR IMMEDIATE RELEASE: Mounties Drop Two at West Virginia Wesleyan Tournament in Salem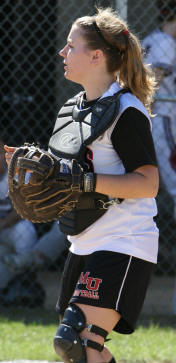 SALEM, VA – The Mansfield University softball team struggled to get their bats going at the West Virginia Wesleyan Tournament in Salem, VA on Saturday dropping a 9-2 decision to West Virginia Wesleyan and were no-hit in a 9-0 loss to #22 South Carolina-Upstate.
The Mountaineers took an early lead against West Virginia Wesleyan scoring two runs off rbi's by Kristina Poore (Matamoras/Delaware Valley) and Jen Stein (Williamsport/Williamsport).
West Virginia Wesleyan scored three runs in the bottom of the third to take the lead for good. Shelly Forsburg (Vestal,NY/Vestal) went the distance for Mansfield.
In the nightcap, USC-Upstate's Brittany Rice did not allow a hit in picking up the win.
Mansfield falls to 2-11 overall and will play Sheperd College and IUP on Sunday.
Game One
Mansfield 200 000 0 2-3-3
West Virginia Wesleyan 013 053 x 9-9-3
Mansfield (2-10): Shelly Forsburg (L, 2-5) and Kristina Poore
RBI – Poore, Jen Stein
West Virginia Wesleyan (7-17): Amber Collier (W) and Shannae Proud
3b – Brooke Catanese HR – Lara Foster
RBI – Foster 2, Carly McCullough 2, Catanese, Lindsey Lemon
Game Two
USC-Upstate 214 20 9-7-1
Mansfield 000 00 0-0-1
USC-Upstate (30-8): Brittany Rice (W, 11-4) and Vanesa Flores
2b – Amber Patterson
RBI – Shay Slater 2, Heidi Gibbs, Ana Mitchell, Ashleigh Beck, Patterson
Mansfield (2-11): Christine Ross (L, 0-2), Whitney Brown (3), Lindsay Knapp (5) and Jen Stein