RELEASE DATE: 3/13/07
FOR IMMEDIATE RELEASE: Mountie Softball Drops Two in Savannah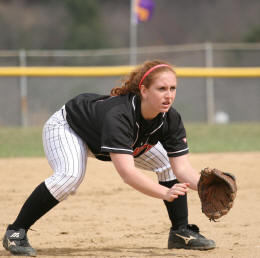 SAVANNAH, GA – The Mansfield University softball team dropped a pair of games at the first day of the SCAD Spring Break Tournament in Savannah, GA losing to Bluefield State 3-1 and dropping a 6-1 decision to Haverford.
In the opener, the Mountaineers loaded the bases in the first inning but managed to score just one run on a walk by Katie McConville (Lake Ariel/Western Wayne). Shelly Forsburg (Vestal,NY/Vestal) was effective in the loss striking out six while walking none. Shana Markwis (Milford/Delaware Valley) and Jess Christ (Dover/Dover) both hit a double.
Mansfield committed five errors in the nightcap with Haverford scoring five times in the bottom of the first. Whitney Brown (Troy/Troy) took the loss striking out eight over five innings.
The Mountaineers fall to 0-7 on the season and play Bluefield and Barton tomorrow.
GAME ONE
Bluefield State 002 000 1 3-7-0
Mansfield 100 000 0 1-6-2
Bluefield State (10-10): Katie Kelly (W) and Bev Netusil
2b – Kelly, Courtney Johnson RBI – Diana Robinson, Elizabeth Hawkins
Mansfield (0-6): Shelly Forsburg (L) and Kristina Poore
2b – Shana Markwis, Jess Christ RBI – Katie McConville
GAME TWO
Mansfield 100 000 0 1-2-5
Haverford 500 001 x 6-6-2
Mansfield (0-7): Whitney Brown (L), Lindsey Knapp (5) and Brittany Walker
Haverford (3-0): Becky Garibotto (W), Sam Fontinell (5) and Taylor Zanasky
RBI – Amy Havassy, Allison Frank, Zanasky