RELEASE DATE: 3/15/07
FOR IMMEDIATE RELEASE: Softball Picks Up Second Win in Two Days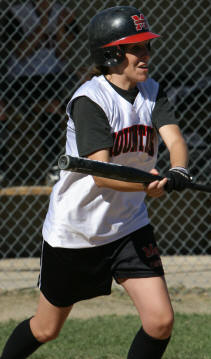 SAVANNAH, GA – The Mountaineer softball team won their second game of the day 7-2 over Chowan University after dropping a 7-3 decision in the early contest against Bluefield State on Thursday.
Shelly Forsburg earned her second win in as many days after throwing a complete game against Chowan allowing just four hits and two runs.
Jess Christ and Whitney Brown led the Mounties at the plate each belting out two doubles while Shana Markwis also had a double.
Brown recorded two RBI while Jess Christ recorded one.
Mansfield dropped their third game to Bluefield over the spring break trip in the early game. The Mountaineers held a one run advantage after the first inning before Bluefield scored 7 runs in the 3rd-5th innings.
Lindsay Knapp picked up the loss after being relieved by Christina Ross in the fifth inning. Katie McConville and Shelly Forsburg each picked up two hits at the plate and each recorded one double. Shana Markwis also had a double.
The Mountaineers improved to 2-9 overall on the season and have finished their spring break trip. Mansfield is back in action on March 24th when they travel to the West Virginia Wesleyan Tournament in Salem, Virginia.
GAME ONE
Mansfield 100 200 0 3-7-1
Bluefield State 002 320 0 7-9-0
Mansfield (1-9): Lindsay Knapp (L), Christine Ross (5) and Kristina Poore
2b – Markwis, Forsburg, McConville RBI – Markwis-2, Poore
Bluefield State (12-10): Nicole Hall (W) and Connie McNeal
RBI – Sturman-2
GAME TWO
Chowan 001 010 0 2-4-3
Mansfield 121 021 x 7-10-3
Mansfield (2-9): Shelly Forsburg (W) and Poore
2b – Christ-2, Brown-2, Markwis
RBI – Brown-2, Christ
Chowan: Melissa Woodrum (L) and Katie McGlocklin