RELEASE DATE: 3/14/07
FOR IMMEDIATE RELEASE: Softball Picks Up First Win of Season in 3-0 Shutout over Hood College – Shelly Forsburg Throws Two-hitter and Homers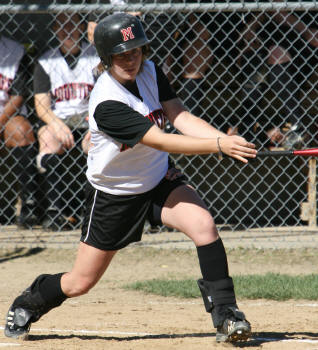 SAVANNAH, GA – Shelly Forsburg (Vestal,NY/Vestal) threw a two-hitter and hit a two-run home run to lead Mansfield to a 3-0 win over Hood College at the SCAD Spring Break Invitational in Savannah, GA on Wednesday.
Mansfield dropped a 2-1 heartbreaker to Bluefield State earlier in the day.
Forsburg kept Hood off balance all game long in giving up just two hits and striking out three. Mansfield took a 1-0 lead when Shana Markwis (Milford/Delaware Valley) led off the bottom of the third with a triple and scored on a single by Gabriella Carrullo (Chalfont/Central Bucks South). Mansfield put the game out of reach in the sixth when Kristina Poore (Matamoras/Delaware Valley) doubled and scored on Forsburg's homerun over the centerfield fence.
In the opener, Mansfield scored a run in the top of the first on a two-run double by Jess Christ (Dover/Dover). That lead held up until Bluefield scored two runs in the fourth inning.
Whitney Brown (Troy/Troy) scattered five hits in taking the loss.
The win over Hood was the first of the season for the Mountaineers (1-8). Mansfield will wrap up their Savannah schedule when on Wednesday against Barton and Chowan.
GAME ONE
Mansfield 100 000 0 1-4-2
Bluefield State 000 200 x 2-5-0
Mansfield (0-8): Whitney Brown (L) and Kristina Poore
2b – Jess Christ RBI – Jess Christ
Bluefield State (11-10): Katie Kelly (W) and Bev Netusil
2b – Kelly, Elizabeth Hawkins RBI – Danielle Sturman, Kelly
GAME TWO
Hood 000 000 0 0-2-2
Mansfield 001 002 x 3-7-1
Mansfield (1-8): Shelly Forsburg (W) and Poore
2b – Shana Markwis, Poore 3b – Markwis
HR – Forsburg (1)
RBI – Forsburg 2, Gabriella Carrullo,