RELEASE DATE: 4/28/07
FOR IMMEDIATE RELEASE: Mounties Drop Final Games of Season -- Seniors Honored at Lutes Field
MANSFIELD – The Mountaineers dropped their final pair of games in the 2007 season falling 8-2 and 10-2 against the PSAC Eastern division winners from Kutztown.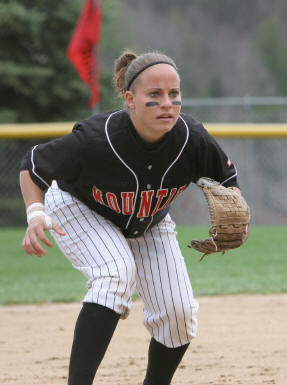 Saturday was senior day at Lutes Field and seniors Christine Ross and Brittany Walker were honored in a pre-game ceremony where they were presented with the Helen Lutes Senior Achievement award.
Ross threw the first pitch of the game before giving way to the Mountaineers number one starter Shelly Forsburg. Forsburg went the distance allowing eight runs on 10 hits.
At the plate, Shana Markwis went 2-for-4 with both Mountaineer RBI while Amanda Lewis was 1-for-1 and scored both runs. Senior Brittany Walker was 1-for-3.
Game two mirrored the first game as the Mountaineers garnered two runs on eight hits.
Lindsay Knapp threw the first three innings before giving way to Whitney Brown in the fourth inning. Shelly Forsburg would close the final two innings.
Kristina Poore led the Mounties going 3-for-4 at the plate including a double while Katie McConville was 2-for-3 with a double and both Mountaineer RBI.
The Mountaineers finish the 2007 season with a 7-30 overall record and a 4-18 mark in conference play while Kutztown moves on to the PSAC playoffs with a 39-13 overall record and a 21-1 mark in the PSAC East.
GAME ONE
Kutztown 302 021 0 8-10-1
Mansfield 001 010 0 2-5-0
Kutztown (38-13, 20-1); Arbogast (W,24-7), and Spalik.
2B- Schiavo, Morrison, Cameron HR- Denlinger
RBI- Denlinger-3, Cameron-2, Bennett-2, Schiavo
Mansfield (7-29, 4-17 ); Christine Ross, Shelly Forsburg (1) (L, 6-12) and Kristina Poore.
3B- Shana Markwis RBI- Shana Markwis-2
GAME TWO
Kutztown 002 510 2 10-14-0
Mansfield 010 001 0 2-8-0
Kutztown (39-13, 21-1); Weidensaul (W, 14-5), and Fitzgerald.
2B- Willimer-2, Fitzgerald, Hague HR- Cameron
RBI- Fitzgerald-4, Cameron-2, Bennett, Schiavo, Morrison, Denlinger
Mansfield (7-30, 4-18 ); Lindsay Knapp (L, 0-10), Whitney Brown (4), Shelly Forsburg (6) and Jen Stein.
2B- Poore, McConville, Brown RBI- McConville-2