RELEASE DATE: 3/9/07
FOR IMMEDIATE RELEASE: Softball Drops Season Opener 15-7
FLORENCE, SC -- The Mountaineer women's softball team dropped their season opener against Francis-Marion by a score of 15-7 on Friday evening at the Patriot Invitational in Florence, South Carolina.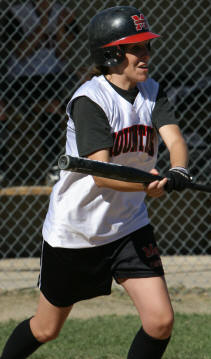 The game was called in the bottom of the fifth inning when F-M scored their 15th run enacting the 15 run rule. Mansfield trailed 10-7 entering the bottom of the fifth before the five run inning ended the contest early.
Shelly Forsburg started on the mound for the Mountaineers and was credited with the loss after being relieved in the fourth inning. Lindsay Knapp and Whitney Brown pitched the fourth and fifth innings.
Serena Lim relieved F-M starting pitcher Jessica Johnson in the third inning and earned the win.
At the plate, Jess Christ let the Mountie women going 2-2 with an RBI while Shana Markwis was 1-2 with an RBI and two runs scored. Whitney Brown had the only extra base hit for Mansfield going 1-3 with a double and two RBI.
The Mountaineers fall to 0-1 overall to start the season and are back in action tomorrow, Saturday, March 10, when they play against Lenoir-Rhyne at 3:00pm and then return for a nightcap against Bluefield State at 7:00pm.
Francis-Marion 15 Mansfield 7
Francis-Marion 312 45x 15-13-3
Mansfield 222 01x 7-6-3
Francis-Marion: Jessica Johnson, Serena Lim (3, W) and Kayla Rudee
2b – Wolford, Rudee 3b – Tyson
HR – Aleman
RBI – Tyson-3, Aleman-2, Wolfiord-2, Hauff, Pangburn
Mansfield (0-1): Shelly Forsburg (L, 0-1), Lindsay Knapp (4), Whitney Brown (5) and Brittany Walker, Kristina Poore (4)
2b – Whitney Brown
RBI – Christ, Markwis, Brown-2