RELEASE DATE: 3/17/07
FOR IMMEDIATE RELEASE: Forsburg Named to All-Tournament Team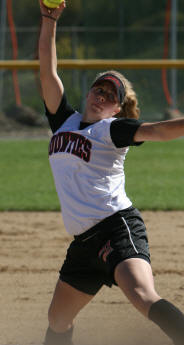 SAVANNAH, GA – Shelly Forsburg (Vestal, NY/Vestal) has been named to the SCAD Smash Hit Spring Break All Tournament Team by the Anderson Bat Company for her performance over the Mountaineers six games of the tournament in Savannah, Georgia this past week.
Forsburg earned the honor as a pitcher after she threw three complete games in three days picking up two wins and one loss.
Forsburg allowed only five runs in her three appearances at the tournament and gave up only 13 hits combined.
She also helped her cause by belting a two run homerun in a 3-0 win over Hood College.
The Mountaineers are scheduled to travel to the West Virginia Wesleyan Tournament in Salem, Virginia on March 24-25.