RELEASE DATE: 3/10/07
FOR IMMEDIATE RELEASE: Softball Drops Third Straight -- Fall 5-1 to Bluefield State
FLORENCE, SC -- The Mountaineer women's softball team suffered their second loss of the day in the nightcap at the Patriot Invitational in South Carolina as they fell 5-1 to Bluefield State.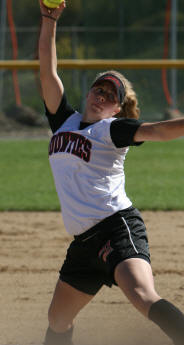 Mansfield continues to struggle at the plate putting up just eight runs in the first three games combined including a 18-0 shutout earlier in the day to Lenoir-Rhyne.
The Mountaineers stayed within striking distance the entire game but could not get on the board until the bottom of the seventh inning when Whitney Brown ripped an RBI single.
Shelly Forsburg picked up her second loss of the season after throwing a complete game. Forsburg attempted to help her cause by leading the Mountaineer women at the plate going 2-3 with a triple, the only extra base hit for Mansfield.
Katie Kelly threw a complete game and earned the win for Bluefield State.
The Mountaineers have lost three straight to open the season and are back in action tomorrow morning when they face Augusta State at 11:00 am before taking on Coker College at 1:00pm.
Bluefield State 5 Mansfield 1
Bluefield State 110 021 x 5-10-2
Mansfield 000 000 1 1-4-2
Bluefield State: Katie Kelly (W) and Bev Netusil
2b – Netusil, Hawkins
HR – Hawkins, Sturman
RBI – Hawkins-2, Netusil-2, Sturman
Mansfield (0-3): Shelly Forsburg (L, 0-2) and Kristina Poore
3b – Forsburg
RBI – Brown