RELEASE DATE: 4/26/07
FOR IMMEDIATE RELEASE: Huskies Pitching Staff Shuts Down Mounties in Sweep at Lutes Field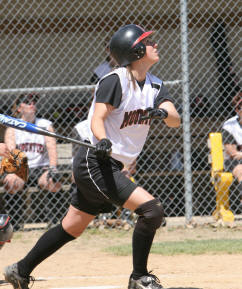 MANSFIELD – The Bloomsburg University starting pitchers combined for 21 strikeouts and allowed just five hits combined in shutting out the Mountaineers 10-0 and 3-0 in PSAC East action at Lutes Field on Thursday afternoon.
Ashley Lynn struck out 12 batters and allowed just three hits in game one and relied on a big fifth inning as the Huskies scored six runs en route to running away from the Mountaineers for a 10-0 victory.
Shana Markwis (Milford/Delaware Valley) seemed to be the only Mountie who could get things going at the plate as Markwis went 2-for-3 in the game. Jess Christ (Dover/Dover) had the other Mountaineer hit.
Lindsay Knapp (Millerton/Millerton) threw the complete game allowing 10 runs on 11 hits to pick up the loss.
Game two was more of the same as Sheelin Fisher struck out nine batters and allowed just two hits en route to a complete game 3-0 victory.
Christ had one hit in the contest and Whitney Brown (Troy/Troy) had the lone extra-base hit of the day for Mansfield when she doubled in the second inning.
Shelly Forsburg (Vestal, NY/Vestal) looked good on the mound throwing the complete game allowing three runs on five hits. Forsburg picked up her 11th loss of the season.
With the sweep, Mansfield drops to 7-28 overall and 4-16 in the PSAC East while the Huskies improve to 31-10 and 17-5 in conference play.
Mansfield is scheduled to play at West Chester tomorrow but with rain in the forecast, that doubleheader may be cancelled. The Mountaineers will celebrate senior day on Saturday with a doubleheader against Kutztown. Game one is scheduled to start at 1:00pm.

GAME ONE
Bloomsburg 000 163 x 10-11-0
Mansfield 000 000 x 0-3-2
Bloomsburg (30-10, 16-5); Ashley Lynn (W,17-3), and Tiff Corliss
2B- Stacy Krupiewski, Jess Rosin HR- Krupiewski
Mansfield (7-27, 4-15 ); Lindsay Knapp (L, 0-9) and Kristina Poore
2B- Shana Markwis
GAME TWO
Bloomsburg 120 000 0 3-5-0
Mansfield 000 000 0 0-2-1
Bloomsburg (31-10, 17-5); Sheelin Fisher (W, 10-3) and Tiff Corliss
2B- Tara Reed HR- Reed
Mansfield (7-28, 4-16); Shelly Forsburg (L, 6-11) and Kristina Poore
2B- Whitney Brown