RELEASE DATE: 4/10/07
FOR IMMEDIATE RELEASE: Mounties out-hit West Chester but drop doubleheader 4-2, 4-2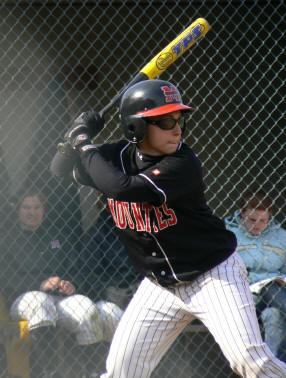 MANSFIELD -- Shelly Forsburg (Vestal/Vestal) threw a complete game four-hitter but West Chester rallied, scoring a run in the sixth and seventh innings on their way to a 4-2 win in the opening game of the PSAC East doubleheader at Helen Lutes Field.
Mansfield out-hit West Chester 10-7 in the nightcap but lost by an identical 4-2 score.
In the opener, Forsburg limited West Chester to four hits while striking out six and allowing just three earned runs in the loss. The Mountaineers could not seem to come up with a timely hit in the contest, stranding eight runners on base, compared to West Chesterís one.
Mansfield loaded the bases with one out in the third when Ashley Gaisser (Brockport, NY/Brockport) and Shana Markwis (Milford/Delaware Valley) singled, and were moved over on a sacrifice bunt by Kristina Poore (Matamoras/Delaware Valley). Jess Christ (Dover/Dover) was hit by a pitch to load the bases. The Mountaineers scored the games first run on a ground out by Jen Stein (Williamsport/Williamsport), scoring Gaisser, but West Chesterís Shannon Padula would get Forsburg to fly out to center field to end the inning.
West Chester went ahead in the top of the fourth inning to score two runs, behind Tara Colantuonoís lead off triple, who later scored on a wild pitch. The second run was unearned.
Mansfield tied the score in the bottom of fifth on back-to-back doubles by Christ and Stein.
West Chester retook the lead with a run in the sixth on an RBI single by Megan Harbaugh, and added an insurance run in the seventh.
Jess Christ was 2-4 for the Mountaineers with a double.
In the nightcap, West Chester took a 3-0 lead going into the sixth inning before Mansfield scored twice, on RBI singles by Poore and Gab Carrullo (Chalfont/Central Bucks South), but could pull no closer. Lindsay Knapp (Millerton/Millerton) started and took the loss for Mansfield. Christine Ross (Harrisburg/Central Dauphin East) came in relief in the fifth and allowed one earned run along with striking out one.
Poore went 3-4 for the Mountaineers with Shana Markwis going 2-4 with two doubles.
Mansfield falls to 4-17 overall, and 1-5 in the PSAC East.
The Mountaineers will host Bloomsburg in a make-up doubleheader Thursday afternoon starting at 2:30 at Helen Lutes Field.
GAME ONE
West Chester 000 201 1 4-4-0
Mansfield 001 010 0 2-5-2
West Chester (16-16, 2-7); Shannon Padula (W, 12-9) and Bria Sheb
2B- Jacquelyn DiPaola 3B- Tara Colantuono
RBI- Megan Harbaugh 2, DiPaolo
Mansfield (4-16, 1-4); Shelly Forsburg (L, 3-7) and Kristina Poore
2B- Jess Christ, Jen Stein RBI- Stein 2
GAME TWO
West Chester 002 010 1 4-7-0
Mansfield 000 002 0 2-10-1
West Chester (17-16, 3-7); Padula(W, 13-9) and Alisha DiMarzio
3B- Colantuono RBI- Katie Kreider 2, Jamie McComb, Harbaugh
Mansfield (4-17, 1-5); Lindsay Knapp (L, 0-4), Christine Ross (4) and Kristina Poore
2B- Shana Markwis 2 RBI- Gab Carrullo, Poore