RELEASE DATE: 3/06/07
FOR IMMEDIATE RELEASE: Mountie Softball Opens 2007 Season at Florence, SC on Friday
MANSFIELD --The Mansfield University softball team will begin its 2007 season when they take on Francis-Marion College at the Patriot Invitational in Florence, SC this Friday.
The Mountaineers will be playing 12 games over the spring break period. They will open the season with five games at the Patriot Invitational on March 9-11 and seven games at the SCAD Spring Break Tournament in Savannah, GA March 13-15. The Mountaineers will close out the trip by playing a double-header against St. Augustine on their trip back on March 17.
Thereís a lot to like about the 2007 Mansfield Mountaineer softball team. There are also a lot of unknowns.
With one of the largest recruiting classes in her 16 year tenure, head coach Edith Gallagher is looking to rebuild her lineup that lost five starting seniors. The 2007 edition is expected to be a team that will get better as the season gets longer.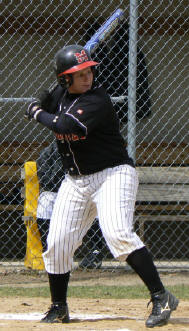 Coming off of a 21-22 season, the Mountaineers welcome ten new faces to the squad, including four junior college transfers. The 2007 squad does return six players, including four position starters, highlighted by two NCAA All-Region selections from last season.
Junior Jess Christ (Dover/Dover) is one of those All-Regional selections. Christ, one of the most feared hitters in the PSAC, will move from second base to shortstop this season. As a junior last year, Christ was fourth in the PSAC with a .388 batting average while also ranking among the conference leaders in RBIís (40) and doubles (12).
While Christ will anchor the infield from her shortstop spot, versatility is the name of the game for the other positions. Junior Whitney Brown (Troy/Troy) started 23 games last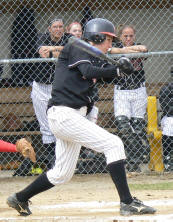 season at first base where she hit .275 and drove in 12 runs. Also vying for playing time at first base will be junior transfer Lindsay Knapp (Millerton/Millerton). Knapp transferred from Franklin Pierce where she started 40 games last year. Amanda Lewis (West Hill/Stamford, CT), who also transferred from Franklin Pierce with Knapp, will provide additional depth.
Platooning at second base will be the trio of Shelly Forsburg (Vestal/Vestal, NY), Kristina Poore (Matamoras/Delaware Valley), and Gabriella Carrullo (Chalfont/Central Bucks South). Forsburg will get the nod at second when not in the starting rotation. Freshman Gabriella Carrullo will also see time at second along with adding depth to the pitching staff.
Veterans Brittany Walker (Vestal/Vestal, NY) and Katie McConville (Lake Ariel/Western Wayne) bring experience to the hot corner where they both saw action last season. Walker, a tough defensive player who started 40 games last year, will see more time at third base. McConville appeared in 23 games as a freshman. Along with them will be junior Danielle Kiernan (Honesdale/Honesdale) who will see some action and will also be used as a pinch runner or pinch hitter.
Shana Markwis (Milford/Delaware Valley) will move from right to center field this season, where she earned All-Regional honors. The speedy left-hander will also move to the leadoff spot after batting .355 and scoring a team best 40 runs in 2006. When not at first base, Whitney Brown will see time in right field. Newcomer Ashley Gaisser (Brockport/Brockport, NY), who has looked impressive in preseason, will compete for starting position in left, with Erin Hackett (Elkland/Elkland) and Liz Crull (Mt. Holly Springs/Boiling Springs) also expected to see playing time.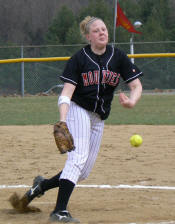 Although they lost their top two starters from last season, the Mountaineers increased the depth of their pitching staff, which will be anchored by senior Christine Ross (Harrisburg/Central Dauphin) and junior Shelly Forsburg. Ross, a crafty 6-1 lefty, had a solid off-season and looks ready to make an impact on the mound this year. Forsburg was a two-time NJCAA Division III All-American while pitching at Broome Community College.
Coming in for relief for the Mounties will be juniors Whitney Brown, Lindsay Knapp, and freshman Gabriella Carrullo. Brown was solid in 13 appearances on the mound in relief last year.
Whoever is on the mound will have a talented trio of catchers to throw to. Senior Brittany Walker, who caught a majority of the innings on the season, will mix her time behind the plate and at third base while recovering from an off season injury. Kristina Poore, a junior college transfer, and freshman Jen Stein (Williamsport/Williamsport) will be vying for starting spots while Walker is in the infield.