Release Date: 4/21/07
FOR IMMEDIATE RELEASE: Amanda Lewis powers Mounties past East Stroudsburg; Junior ties game in 7th with 3-run homerun and knocks in winning run in 9th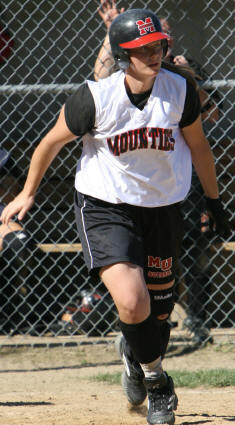 MANSFIELD Ė Junior Amanda Lewis (Stamford,CT/West Hill) tied the game with a three-run homerun in the bottom of the seventh inning and then drove in the winning run in the bottom of the ninth to rally Mansfield to a 5-4 win over East Stroudsburg in the opening game of a PSAC East doubleheader at Helen Lutes Field on Saturday.
Things looked bleak for the Mounties as they trailed 4-1 in the bottom of the seventh inning when Shana Markwis (Milford/Delwaware Valley) led off the inning with a single. Next batter Kristina Poore (Matamoras/Delaware Valley) double, but Markwis was thrown out at 3rd to make the first out of the inning. Jess Christ (Dover/Dover) was then hit by a pitch, putting runners on first and second. After a fielders choice, the Mountaineers were down to their last out of the game with runners on first and second to set the stage for Lewis, who drilled a pitch over the center field fence to tie the game.
Neither team would score again until the bottom of the ninth inning, when Jen Stein (Williamsport/Williamsport), with two outs, hit a line drive double down the left field line to put a runner in scoring position. Lewis would save the day again afterwards with an RBI single to centerfield to score pinch runner Erin Hackett (Elkland/Elkland) to end the game.
Shelly Forsburg (Vestal,NY/Vestal) went the entire nine innings, striking out five batters with only one walk.
Lewis went 2-3 with a homerun and a single and four RBIís, while Jen Stein went 2-5 with a double.
Errors and walks kept Mansfield in a hole in the second game as the Mountaineers trailed 9-0 in the fifth inning. Brittany Walker (Vestal,NY/Vestal) led of the bottom of the fifth with a single, and two walks would load the bases before Jess Christ doubled in two runs.
Lindsay Knapp (Millerton/Millerton) took the loss for the Mountaineers.
Mansfield moved to 5-24 for the season and 2-12 in the PSAC and will travel to Shippensburg tomorrow to play a doubleheader.
GAME ONE
East Stroudsburg 002 200 000 4-10-1
Mansfield 001 000 301 5-10-1
East Stroudsburg: (20-20, 11-6) Kristin Halvorsen (L, 9-12) and Amanda Fiest
2b- Shannon Dietrich, Candice Pastor 3b- Michelle Myers HR- Eliza Morosco
Mansfield: (5-23, 2-11) Shelly Forsburg (W 4-10) and Kristina Poore
2b- Jen Stein, Poore HR- Amanda Lewis
GAME TWO
East Stroudsburg 004 324 x 13-15-0
Mansfield 000 020 x 2-7-2
East Stroudsburg: (21-20, 12-6) Crissy Wontroba (W,12-7), Jen Bensinger (7) and Eliza Morosco
2B- Laura Snyder, Keri Jakobsen, Morosco
Mansfield (5-24, 2-12) Lindsay Knapp (L, 0-7), Gab Carrullo(2), Christine Ross (3), Whitney Brown (5) and Jen Stein