RELEASE DATE: 4/03/07
FOR IMMEDIATE RELEASE: Mounties Drop Pair at ESU
EAST STROUDSBURG – The Mountaineers dropped a pair of PSAC East games against East Stroudsburg on Tuesday afternoon falling 4-0 and 3-0.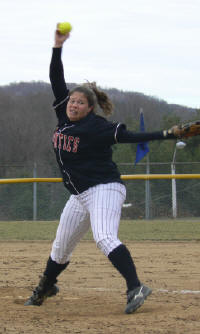 Mansfield struggled offensively all afternoon failing to score a run in either contest.
Shelly Forsburg started the first game for the Mountaineers and allowed four runs on eight hits before being relieved in the third inning. Gabriella Carrullo, Christine Ross, and Ashley Gaisser combined to allow just two hits and no runs for the duration of the game. Forsburg was credited with the loss.
Shana Markwis led the way at the plate once again going 2-for-4 in game one while Jess Christ and Shelly Forsburg each had a double.
In game two, Lindsay Knapp went the distance allowing three runs on five hits and recorded three strikeouts in the loss.
At the plate, the Mountaineers managed just three hits coming from Markwis, Whitney Brown, and Liz Crull.
Mansfield falls to 4-15 overall and 1-3 in the PSAC East while East Stroudsburg improves to 11-16 overall.
The Mountaineers are back in action on Friday, April 6, when they host Bloomsburg in a doubleheader set for 2:00 pm at Lutes Field. Inclement weather is predicted for the area so stay tuned to www.gomounties.com for updates throughout the week.
GAME ONE
Mansfield 000 000 0 0-6-3
East Strou 121 000 x 4-10-2
ESU (10-16): K. Halvorsen (W) and A. Feist
2B – Schmoyer, Darcey 3B – Veronesi, McAloon
RBI – Schmoyer-2, Darcey, McAloon
Mansfield (4-14, 1-2 ): Shelly Forsburg (L, 3-6), Carrullo (3), Ross (6) and Kristina Poore
2b – Christ, Forsburg
GAME TWO
Mansfield 000 000 0 0-3-0
East Strou 002 001 x 3-5-1
ESU (11-16): C. Wontroba (W) and E. Morosco
3B – McAloon
RBI – McAloon, Veronesi
Mansfield (4-15, 1-3 ) Lindsay Knapp (L) and Kristina Poore