RELEASE DATE: 2/20/10
FOR IMMEDIATE RELEASE: Fannick's 3-pointer with .03 left lifts Mansfield to 53-50 come-from-behind-win over West Chester – Mounties move into three-way tie for first place in PSAC East -- Yuseff Carr become 24th player in MU history to reach 1,000 milestone
Box Score
watch game highlights on Youtube: http://www.youtube.com/watch?v=0FZel6J3sto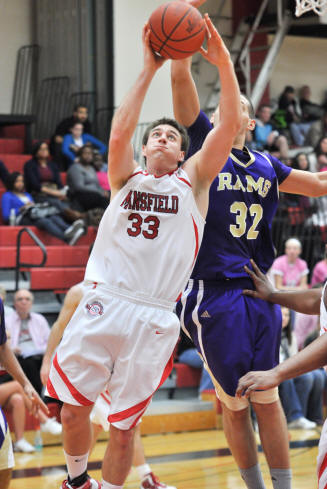 MANSFIELD – Tony Fannick's 3-pointer with .03 seconds left lifted Mansfield to a come-from-behind 53-50 win over West Chester and into a three-way tie with Cheyney and East Stroudsburg for first-place in the PSAC East on Senior Day Saturday afternoon in Decker Gymnasium.
"That was a tough game to win," said head coach Rich Miller. "We weren't shooting well but we never told our guys not to shot the three. We did tell them to get inside touches and we were able to get the ball into Yuseff later in the game and that opened the outside."
Mansfield trailed 47-41 with four minutes to play but started a comeback 20 seconds later when senior Chris Pender buried a 3-pointer and closed the gap to 48-46 on a layup by Yuseff Carr with just under two minutes to play.
Mansfield tied the score at 48-48 on another Carr layup, this one coming with 1:06 to go but West Chester retook the lead 50-48 on a layup by Kehinde Roberts with 45 seconds to play. Carr tied the score seconds later with hitting two free throws -- the first being his 1,000 career point – at 50-50.
Each team missed a shot in their next possession before Mansfield got the ball on a rebound by Derrison Anthony with 13 second to play. The Mountaineers called a time-out with 10 seconds to go and after not being able to get a good look inside got it to Fannick at the top of the circle who nailed the winning shot with .03 remaining on the clock.
"We ran a play to get the ball into Yuseff and when it wasn't there everybody did what they were supposed to do," said Miller of the game's final possession. "We made the right decision to get it back outside and into Tony's hand and he did what he done a lot of in the past and made the big shot."
Mansfield trailed for much of the game leading only the first five minutes and the last second of the contest. But while they struggled to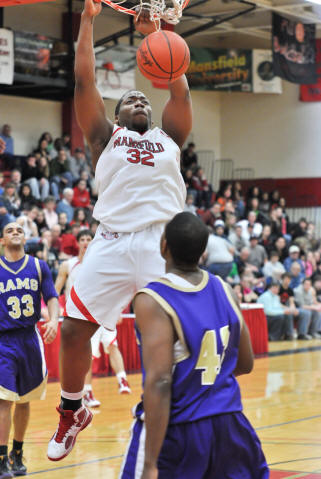 shoot, especially from the outside, the Mountaineers never let the game get more than 6 points ahead in the second half.
Carr, who sat most of the first half with foul trouble, scored 12 of his 18 points in the second half including six of Mansfield final nine points of the game. Fannick, who come off the bench to hit the winning shot, added 18 points in 21 minutes played.
"Tony and Yuseff were the stars of the game," said Miller. "But we don't win that game without Derrison Anthony. He didn't have any points but he made plenty of big plays pulling down 13 rebounds and having four big steals."
Ralph Hegamin led West Chester (4-8 PSAC East, 15-10 overall) with 15 points and nine rebounds. The loss eliminated West Chester from the PSAC playoff picture.
Although Mansfield is tied with East Stroudsburg and Cheyney for first place with 8-4 records, they haven't yet clinched a PSAC playoff berth because Kutztown is 7-5 and Bloomsburg is 6-6 with two games remaining in regular season. The first four teams in each division advance to the PSAC playoffs with the top two teams in each division hosting first round playoff games.
Mansfield host Bloomsburg on Wednesday night in the final regular home game of the season.
2009-10 PSAC Men's Basketball Standings
School

Conf

CPct.

Overall

Pct.

Streak

East

8-4

0.667

21-4

0.840

W1

8-4

0.667

17-8

0.680

W3

8-4

0.667

15-10

0.600

L1

7-5

0.583

20-5

0.800

L2

6-6

0.500

12-12

0.500

W4

4-8

0.333

15-10

0.600

L1

4-8

0.333

11-14

0.440

W1

3-9

0.250

8-17

0.320

L2

West

10-1

0.909

21-2

0.913

W3

8-4

0.667

16-9

0.640

W1

7-5

0.583

17-8

0.680

W2

6-5

0.545

11-13

0.458

L2

4-7

0.364

16-10

0.615

L1

4-7

0.364

10-14

0.417

W1

4-8

0.333

15-10

0.600

L1

3-9

0.250

6-17

0.261

L4