RELEASE DATE: 1/23/10
FOR IMMEDIATE RELEASE: West Chester stuns Mansfield men 89-75 – torrid second half rally runs out of steam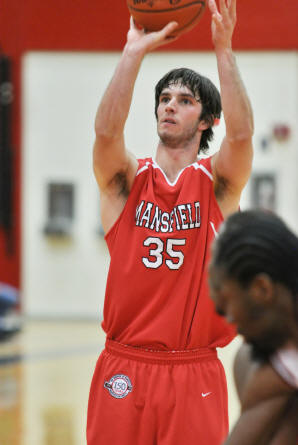 WEST CHESTER -- Senior Ryan Callahan scored a game-high 28-points but Mansfield was never able to overcome a deep first-half deficit in an 89-75 loss to West Chester in a PSAC East game Saturday afternoon.
The loss was the first in PSAC East play for the Mountaineers who are now in a three-way tie for first place in the East with Kutztown and East Stroudsburg each at 3-1. The setback also snapped Mansfield's six-game winning-streak.
Mansfield (12-5could do little right and West Chester could do little wrong in the first half as the Golden Rams jumped out to a 50-29 halftime lead.
The Mountaineers made just 5-of-18 shots in the first 20 minutes while West Chester went 18-36 including 5-of-12 on 3-point attempts. Mansfield made just 1-of-7 3-point attempts in the first half and it could have been worse if MU didn't hit 18-of-21 first half free throws.
Trailing 68-49 with ten minutes to play Mansfield mounted a torrid rally using a 13-2 run to close the gap to 70-62 on a jumper by Justin Simmons three minutes later. The Mountaineers closed to 75-69 with four minutes to play on a dunk by Yuseff Carr. But a 3-pointer by West Chester's Kehinde Roberts ended the rally and Mansfield never got under double-digits for the remainder of the game.
West Chester held a 46-25 rebounds advantage including 21-9 on the offensive boards. The game featured 64 free throws with each team shooting 32.
Callahan connected on 9-of-15 from the floor and went 10-12 from the free throw line in scoring his 28 points. Simmons scored 14 points while Carr had 12 points and Chris Pender 10.
Kenneth St. George led five West Chester players in double-figures with 20 points.
Mansfield travel to East Stroudsburg Wednesday.