RELEASE DATE: 11/23/09
FOR IMMEDIATE RELEASE: Mansfield men face tough test against UDC Tuesday night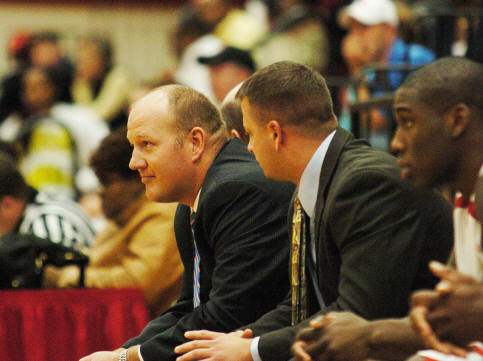 MANSFIELD – The Mansfield University men's basketball will face its second straight test of the young season when the Mountaineers host the Firebirds of the University of the District of Columbia Tuesday evening at 7 p.m. in Decker Gymnasium.
The game will be broadcast live on WNTE 89.5 FM and streamed live on the internet at www.GoMounties. com.
"Don't let their record fool you," said head coach Rich Miller. "They played three tough teams on the road and lost twice in overtime. They have some real talent and we better be ready to play because I know they will be."
Mansfield is coming off an eight day rest after beating a talented Bowie State team 83-73 at Decker in the Mountaineers season opener. UDC is 0-3 with overtime losses at NYIT and Pitt-Johnstown along with a 69-45 loss at Stonehill.
Mansfield came out strong against Bowie State building a 41-30 halftime lead but had to withstanding a late-game rally by Bowie to pull out the 83-73 win. Junior Yuseff Carr led four Mountaineers in double figures in the game with 23 points and also added nine rebounds. Sophomore Tony Fannick recorded a double-double with 17 points and 11 rebounds while senior Ryan Callahan also added 17 points. Senior Chris Pender scored 16 points.
UDC head coach Jeff Ruland left his position as an assistant coach for the Philadelphia 76'ers early this semester to take over the Firebirds program. Ruland played 11 years in the NBA with the Washington Bullets, Philadelphia 76'ers and Detroit Pistons and was a two-time NBA All-Star selection. Ruland also served as head coach of Iona College for nine seasons.
Although new to the program, Ruland has a talented team led by guard Nigel Munson who is averaging 18.0 points per game over the first three games of the season. Keith Brookes is averaging 10.5 points per game with Chris Leach 9.3. Dyrek Jones is averaging 8.3 points and 9.7 rebounds per game.
Mansfield will host Penn State – Dubois next Monday and Penn College on Tuesday.