RELEASE DATE: 11/05/09
FOR IMMEDIATE RELEASE: Mansfield women and men travel to St. Bonaventure for exhibition games on Friday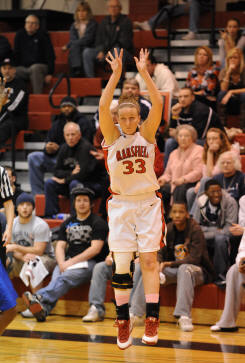 MANSFIELD Ė The Mansfield University womenís and menís basketball teams will preview the 2009-10 season this Friday night with exhibition games against NCAA Division I St. Bonaventure University at the Reilly Center.
The womenís game has a 5 p.m. tip-off followed by the menís game at 7 p.m.
The Mountaineer women will feature a young team with just one senior in Mallory Hafer. She will be joined in the starting lineup by returning point-guard Nicole Pender (7.2 ppg) and sophomore forward Mallory Moore (10.7 ppg, 6.7 rpg). Also likely to start on Friday are forward Tegan Atallah (3.1 ppg) and sophomore guard Meredith Hafer.
The St. Bonaventure women are coming off their most successful season in the Division I history earning a berth in the WNIT where they beat Wisconsin and West Virginia. Senior Dana Mitchell was second in the Atlantic-10 in scoring last season (15.5ppg) and was a preseason A-10 selection this year. St. Bonaventure will hang a WNIT banner prior to the start of Fridayís game.
The Mountaineer men have been slowed somewhat by illness and injury during
preseason after being picked to finish third this season in the PSAC East Coaches Preseason poll. All-PSAC selection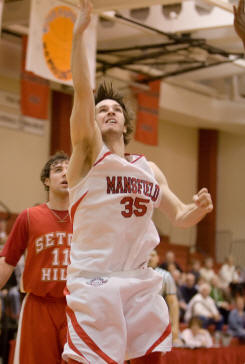 Yuseff Carr, a junior forward, will be one of five starters returning for Mansfield. Carr averaged 15.4 points and 7.7 rebounds per game last season.
Senior guard Ryan Callahan makes things happen on the court averaging 14.9 points per game a year ago. He will be joined by fellow senior Chris Pender in the starting lineup. Pender averaged 12.1 points per game and was second in the PSAC with 68 3-pointers. Tony Fannick was the PSAC East Freshman of the Year last season after averaging 10.0 points per game and leading the PSAC in free throw shooting. Senior Justin Simmons or junior Lavail Owens will start at point.
The Bonnies were picked to finish 11th in the A-10 preseason poll. The Brown and White return six players, including four starters, from last year's team that finished with an overall record of 15-15 and a 6-10 mark in the A-10. Sophomore forward Andrew Nicholson was selected to preseason Atlantic-10 honors after averaging 12.5 points and 6.0 rebounds a game earning him A-10 Freshman of the Year honors last season.
The Mansfield men will open the 2009-10 regular season by hosting Bowie State at 3 p.m. on Sunday, Nov. 14.