RELEASE DATE: 2/06/10
FOR IMMEDIATE RELEASE: Shippensburg upsets Mansfield men 71-63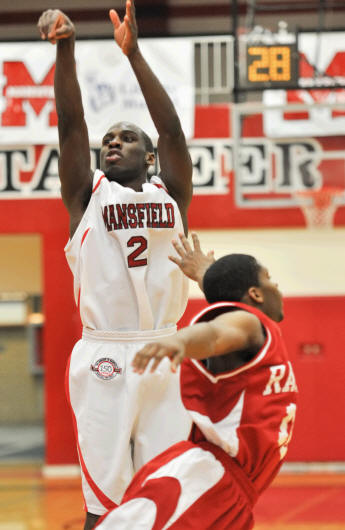 MANSFIELD – Derrison Anthony scored a game-high 18 points but it would be enough to hold off upset-minded Shippensburg as Mansfield dropped a 71-63 PSAC game at Decker Gymnasium Saturday afternoon.
"We didn't play very well and they did," said head coach Rich Miller. "They did a nice job on defending Yuseff (Carr) and we could never capitalize on opportunities we had in the game."
Mansfield took a 20-14 lead midway through the first half on a jumper by Anthony but Shippensburg chipped away and took a 37-33 lead at halftime.
Shippensburg extended its lead to 42-33 in the first two minutes of the second half before Mansfield went on a 9-0 run to tie the game 42-42 on a jumper by Justin Simmons at the 15:06 mark.
Shippensburg led 47-46 with just under 12 minutes to play and the Red Raiders extended used a 10-2 run to take a 57-48 lead with nine minutes left.
Mansfield, which came into the game as the third best free throw shooting team in the PSAC, missed eight straight free throws during one stretch in the second half and connected on just 7-18 attempts from the free throw line over the final 20 minutes.
Mansfield trailed 63-53 with four minutes to play before pulling to 65-61 on a Ryan Callahan layup with 1:21 but could pull no closer.
The Mountaineers were out rebounded 44-35 and connected on just 9-of-23 free throws in the game.
Beside his 18 points, Anthony pulled down nine rebounds and blocked two shots. Chris Pender scored 13 points while Simmons added 12 points.
Dane Lauber led Shippensburg (10-11, 3-5 PSAC East) with 17 points while Will Royal had a double-double with 14 points and 12 rebounds.
Mansfield travels to Kutztown on Wednesday.