RELEASE DATE: 1/13/10
FOR IMMEDIATE RELEASE: Derrison Anthony and Yuseff Carr record double-doubles as Mansfield opens PSAC East campaign with 67-53 win at Shippensburg – Mansfield wins fourth straight to improve to 10-4 overall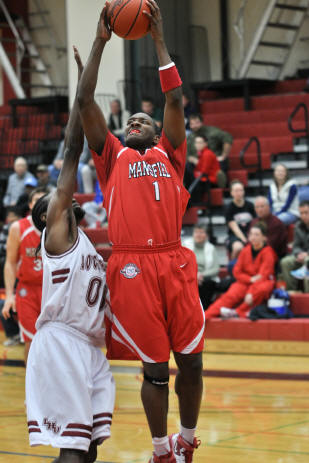 SHIPPENSBURG – Derrison Anthony and Yuseff Carr combined for 40 points to lead Mansfield to a 67-53 win over Shippensburg in the PSAC East opener for both teams Wednesday night at Heiges Field House.
The game was close through the first half with Mansfield taking an early 12-6 lead on a layup by Carr five minutes into the game before Shippensburg came back to tie the game 24-24 at halftime.
Mansfield went on a 7-0 run early in the second half taking a 34-27 lead on a layup by Carr three minutes into the half. Still leading by seven points, with just over eight minutes left, the Mountaineer went on a 12-3 run capped off by a layup by Anthony to hold a 59-43 advantage with three minutes left in the game.
Shippensburg would close the gap to 60-53 with 1:19 remaining but Mansfield hit seven straight free throws including four straight by Chris Pender to seal the win.
Mansfield outscored Shippensburg 43-29 in the second half. The game featured 43 fouls, 30 of which were called in the second half, and Mansfield made a season-low 1-of-13 three-point attempts. The Mountaineers five starters accounted for all 59 points scored. Mansfield held a 43-30 rebounding advantage.
Playing shorthanded, Mansfield went inside much of the game to Carr and Anthony who responded by each recording a double-double. Carr scored 10 of his 19 points in the first half while Anthony, starting for an injured Tony Fannick scored 16 of his game-high 21 points in the second half. Anthony also pulled down a season high 12 rebounds while Carr had 10 rebounds.
Chris Pender added 12 points for Mansfield with Justin Simmons scoring 11 points.
Shippensburg (7-7, 0-1) was led by Will Royal with 12 points and Brian Olekstak with 10.
The Mountaineers have now won six of their last seven games while extended the current winning-streak to four. Mansfield improve to 10-4 overall and 1-0 in the PSAC East.
Mansfield host Cheyney this Saturday at Decker Gymnasium.