RELEASE DATE: 3/01/10
FOR IMMEDIATE RELEASE: Déjà vu all over again when Mansfield host Kutztown Tuesday in PSAC quarterfinal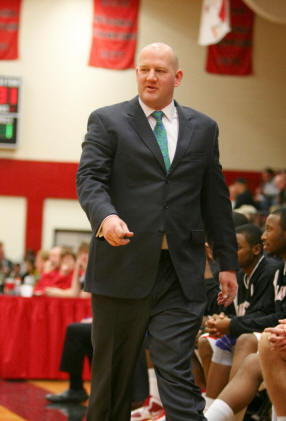 MANSFIELD – As Yogi Berra may say – its déjà vu all over again when the Mansfield University Mountaineers host the Golden Bears of Kutztown University Tuesday evening at Decker Gymnasium. Tip-off for the opening game of the 2009-2010 PSAC playoffs is set for 7 p.m.
Ticket prices set by the PSAC are $7 for adults and $2 for students. Mansfield University students with ID are admitted for free.
The game will be broadcast live by Shane Wilber on ESPN Radio Williamsport and streamed live at www.GoMounties.com.
"It seems like every year we get in the playoffs we're playing Kutztown in the first round," said head coach Rich Miller. "It's always nicer to have them here than it is to go down there."
Since the 2003-04 season the two school have meet in the opening round of the PSAC playoffs four times (2003-04, 2004-05, 2005-06, 2008-09) splitting the games. Kutztown upset No. 1 seed Mansfield 76-72 at Decker Gymnasium in 2003-04 while Mansfield beat Kutztown 95-90 a year later in Decker. Mansfield also won their opening round meeting again in 2005-06 by a 96-73 margin at Decker before falling 87-86 at Kutztown last year.
Mansfield, which has played Kutztown in the opening round of the PSAC playoffs last season at Kutztown and at Mansfield in 2006, captured the PSAC East co-championship with East Stroudsburg this season, earning the No. 1 seed by tie-breaker. East Stroudsburg will be hosting Cheyney, the No. 3 seed in the East on Tuesday. Kutztown is the No. 4 seed after outlasting Bloomsburg on Saturday.
The PSAC Championship Tournament will be held at the highest remaining East seed after Tuesday's first-round games. Mansfield won the PSAC Championship the last two times they hosted the championship tournament in 1997 and 1984. The Mountaineers also won the PSAC title in 1961, 1963, 1964 and 1975. Kutztown has yet to win a PSAC Championship.
Mansfield, which has won 6 PSAC title – third most of any school in the conference – still has the feeling of an underdog this year despite earning the divisional crown and No. 1 seeding with their play in the regular season. Kutztown, which was the preseason pick to win the East, was ranked as high as No. 2 in the nation and continued to be ranked nationally for much of the season.
The two teams meet three times last season with Kutztown winning all three games including an 84-79 decision at Decker Gymnasium. They split this year during the regular season with each team winning at home. Mansfield knocked-off then undefeated and No. 2 ranked Kutztown 94-87 at Decker Gymnasium while Kutztown posted a 81-69 win at Keystone Hall.
Mansfield hasn't lost again since the defeat at Kutztown, reeling off five straight wins to close out the regular season 19-8 overall and 10-4 in PSAC East play.
Mansfield University "Mountaineers"
Mansfield finished the regular season with a 19-8 overall and 10-4 PSAC East mark to share the divisional title with East Stroudsburg.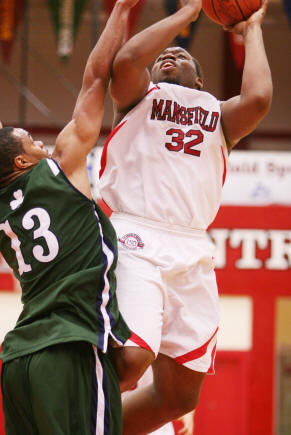 Head coach Rich Miller in his fifth season as the head coach of the Mountaineers after serving seven years as an assistant coach. He played for Mansfield as a graduate student during the 1997-98 season where he averaged 6.8 points over 25 games. Miller has 74-62 overall record at Mansfield and has directed the Mountaineers to playoff berths in three of his first five years as head coach.
The Mountaineers finished 6th in the PSAC in scoring during the regular season averaging 75.4 points per game and were 11th in scoring defense allowing opponents 71.0 points per outing. Mansfield made 182 3-pointers during the season, the second most in the conference. A pair of 1,000 point career scorers, junior forward Yuseff Carr and senior guard Ryan Callahan provided much of the offensive power. Carr ranked 6th in the PSAC in both scoring (16.8 ppg) and rebounding (8.5 rpg) during the regular season and also ranked among the conference field goal percentage and shot blocking leaders. Carr is averaging 17.0 points and 11.0 rebounds against Kutztown in their first two meetings this year.
Callahan is 10th in the PSAC in scoring averaging 15.9 points per game and has led the team in scoring over its current five-game winning streak averaging more than 20 points per game. Callahan is averaging 21.5 points in the two games against Kutztown this season. Sophomore Tony Fannick is averaging 10.5 points per game while senior guard Chris Pender averages 9.9 points. Junior forward Derrison Anthony has been impressive during the conference season and is averaging 9.3 points and 7.2 rebounds per game overall. Senior point guard Justin Simmons averages 7.7 points per game.
Kutztown University "Golden Bears"
Kutztown won the PSAC East last season and advanced to the NCAA Atlantic Regional Championship. The Golden Bears were picked to repeat their division title this year in the Coaches' Preseason Poll but after winning their first 14 games of the season and being ranked No. 2 in the nation, Kutztown dropped a 94-87 loss at Mansfield and have posted a 7-6 mark over their last 13 games.
Bernie Driscoll is in his ninth season as the head coach of the Golden Bears and has helped turn around a once struggling program. Driscoll currently holds a 163-116 mark as head coach.
Kutztown leads the PSAC in scoring this year averaging 80.2 points per game while ranking 13th in scoring defense allowing 72.3 points to opponents. Senior point guard Stephen Dennis tops all of NCAA Division II in scoring averaging 27.1 points per game and scored 36 and 37 points in the first two games against Mansfield this season. Junior forward Ryan Washington is third in the PSAC in scoring averaging 18.5 points per game and ranks second in the conference in rebounds (10.0 rpg).
Other game Tuesday
Cheyney at East Stroudsburg
Gannon at IUP
Mercyhurst at Clarion