RELEASE DATE: 1/30/10
FOR IMMEDIATE RELEASE: Mansfield men's move into second place in PSAC East with 67-64 win over Millersville – Carr scores game-18 points while Callahan hits four free throws in final 28 seconds per preserve the win
MANSFIELD – Yuseff Carr scored a game-high 18 points and junior Derrison Anthony added 14 points to lead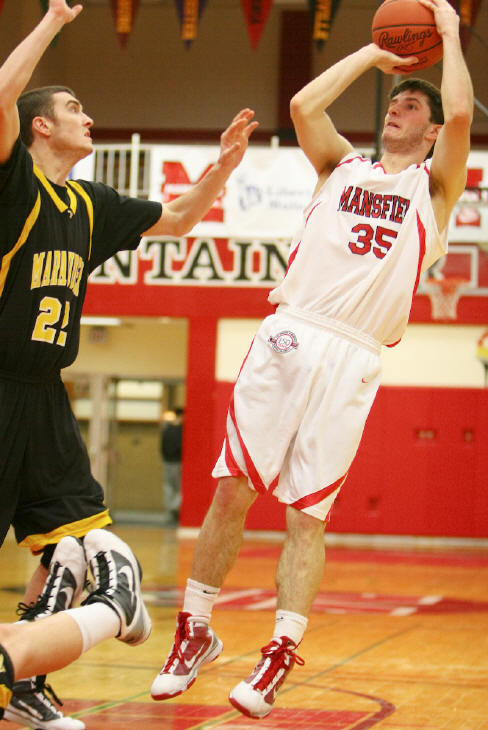 Mansfield to a 67-64 win over Millersville in a PSAC East contest Saturday afternoon in Decker Gymnasium.
"I didn't think we played particularly well," said head coach Rich Miller. "But we played well enough to win. This is a tough, tough conference and winning these types of games is what gets you into the playoffs."
In a game that was close throughout, Mansfield took a 31-28 halftime lead on a deep 3-pointer by Chris Pender at the buzzer.
Mansfield (13-6, 4-2 PSAC East) extended its lead to 45-37 five minutes into the second half of a 3-pointer by junior Donnie Lyons. With 3:22 to play, Mansfield held its biggest lead of the game at 62-53 on a layup by freshman Breland Roach but Millersville held Mansfield scoreless over the next three minutes to pull to 62-59 on a layup by Rob Wyley with 32 seconds to play.
Ryan Callahan hit two free throws seconds later but Millersville closed the game to 64-61 on a lay-up by Alen Ahmetovic with 21 seconds left.
Anthony hit one of two free throws a second later and Millersville made it a two point's game at 65-63 on a jumper by Palmer McDurfee with six seconds left.
Callahan was immediately fouled and hit both shots for a 67-63 lead but Ahmetovic was fouled with three seconds left and after making the first missed the second with the ball going out of bounds in Millersville's possession with .05 on the clock.
Millersville's McDuffie got off a 3-pointer as time expired but it bound off the rim to preserve the Mansfield win.
In addition to Carr's 18 points he also pulled down a game high nine rebounds and blocked two shots. Anthony added six rebounds and four assists to his 14 points while Callahan scored 10 points hitting all six of his free throws. Justin Simmons added eight points before fouling out.
Mike Seibert led Millersville (7-12, 2-4 PSAC East) with 14 points while Jason Blake added 11 points and Jim Kelleher 10.
The loss snaps a modest two-game losing skid for the Mountaineers and puts them in a tie for second place in the PSAC East with Kutztown who lost at Bloomsburg earlier in the day. East Stroudsburg tops the PSAC East with a 5-1 mark.
It marks the first time Mansfield has beaten Millersville three straight times since winning four straight during the 1982-83 and 1983-1984 seasons.
Mansfield will close out the first half of PSAC East play when the Mountaineers travel to Bloomsburg on Wednesday.