RELEASE DATE: 2/27/10
FOR IMMEDIATE RELEASE: Mansfield men win PSAC East title behind Callahan's 30 points in 76-68 win over Millersville – No.1 seed Mounties host No. 4 seed Kutztown Tuesday at 7 p.m. in Decker Gymnasium
MILLERSVILLE – Senior Ryan Callahan scored a season-high 30 points to help lead Mansfield to a 76-68 win at Millersville Saturday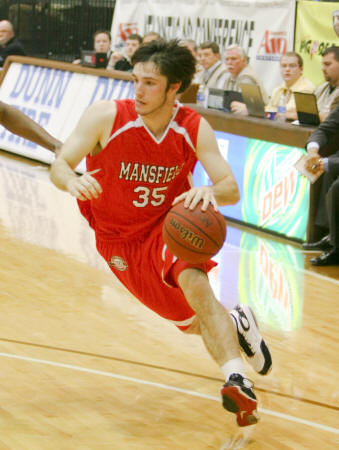 and clinch the PSAC East title and the No. 1 seed spot in the upcoming PSAC playoffs.
"This may seem like an understatement," said head coach Rich Miller. "But this was a good win for us. We wanted to win the division championship on our own and we did that in a place that's a tough environment to win at."
"I thought there were times in the first half that we played as well as we have all season and then there were times in the last couple of minutes that we didn't play very well at all. Ryan (Callahan) had a big game and a big week for use and so did Yusuff (Carr). But don't overlook the contributions others on the team made including Tony Fannick and Derrison Anthony who pulled down nine rebounds each."
Mansfield trailed 7-0 at the start of the game but came roaring back with a 14-0 run to take a 14-7 lead five minutes into the game on a Yuseff Carr layup and ensuing free throw. The Mountaineers extended the lead to as much as 37-22 on a 3-pointer by Tony Fannick 27 seconds before halftime before settling for a 37-24 lead at intermission. Callahan and Carr combined to score 20 of Mansfield's 37 first half points and the Mountaineers out rebounded Millersville 24-13 over the first 20 minutes.
Mansfield maintained a double-digit lead through the first seven minutes of the second half before Millersville chipped away to cut the lead to 51-48 on a 3-pointer by Mike Seibert with just over 11 minutes to play.
But Mansfield used an 18-6 run over the next seven minutes to extend the lead to 69-54 on a Callahan layup at the 3:55 mark. Millersville doggedly stayed in the game closing, the gap to 71-66 on a layup by Palmer McDurfee with 52 seconds to play.
However Millersville would manage to score just two more points, coming with 13 seconds left, while the Mountaineers hit five of six free throws to ice the game and capture Mansfield's first PSAC East crown since 2005.
Callahan scored 19 of his 30 points in the second half after scoring a then season-high 29 points in a win over Bloomsburg on Wednesday. He hit 10-15 from the floor including 5-7 of his 3-point attempts and when 5-6 from the free throw line.
Carr was 6-of-7 from the floor with six rebounds and two blocked shots while Anthony and Fannick each scored seven points and dished out four assists each in addition to their nine rebounds. Justin Simmons also scored seven points.
Mansfield shot 52.8% from the floor and hit 9-of-21 3-point attempts while out rebounding Millersville 39-30 for the game.
Millersville (8-19, 3-11 PSAC East) was led by Jason Blake with 23 points.
Mansfield (19-8, 10-4 PSAC East) will host Kutztown in a quarterfinal game at 7 p.m. on Tuesday in Decker Gymnasium. The teams have split their two games in the regular season with each winning at home. East Stroudsburg, which beat West Cheyney to earn a share of the PSAC East title, is the No. 2 seed in the East and will host Cheyney on Tuesday after Cheyney lost to Shippensburg on Saturday.
It Mansfield wins on Tuesday, the Mountaineers -- as the No. 1 seed from the East -- will host the PSAC Championship Tournament on Friday and Saturday.
"It feels good to win the East," said Miller. "Especially since we weren't even picked to be in the playoffs in the preseason poll. But none of us are satisfied with what we have right now and all of us feel there's a lot more in store for us this season."
Newspaper Box Score
Mansfield University vs Millersville University
02/27/10 3:00 PM at Millersville, Pa. (Pucillo Gymnasium)
At Millersville, Pa. (Pucillo Gymnasium)
MANSFIELD UNIVERSITY 76, MILLERSVILLE UNIVERSITY 68
MANSFIELD UNIVERSITY (19-8, 10-4)
CALLAHAN, Ryan 10-15 5-6 30; CARR, Yuseff 6-7 3-5 15; FANNICK, Tony 3-7 0-0
7; ANTHONY, Derrison 3-5 1-2 7; SIMMONS, Justin 2-9 2-3 7; LYONS, Donny 2-4
0-0 5; PENDER, Chris 1-4 0-0 3; ROACH, Breland 1-2 0-0 2; HENNEGHAN, Cory
0-0 0-0 0. Totals 28-53 11-16 76.
MILLERSVILLE UNIVERSITY (8-19, 3-11)
BLAKE, Jason 6-13 10-12 23; SEIBERT, Mike 3-9 5-7 13; AHMETOVIC, Alen 5-8
0-5 10; McDURFEE, Palmer 4-9 0-0 9; DAVIS, Nigel 3-8 0-0 6; WYLEY, Rob 1-1
1-3 3; CONEY, Rob 1-2 0-0 2; WIDENER, Brandon 1-5 0-0 2; WEBER, Guye 0-2 0-0
0; SANTOS, Christian 0-1 0-0 0. Totals 24-58 16-27 68.
Mansfield University.......... 37 39 - 76
Millersville University....... 24 44 - 68
3-point goals--Mansfield University 9-21 (CALLAHAN, Ryan 5-7; LYONS, Donny
1-3; FANNICK, Tony 1-4; SIMMONS, Justin 1-2; PENDER, Chris 1-4; ROACH,
Breland 0-1), Millersville University 4-14 (SEIBERT, Mike 2-7; McDURFEE,
Palmer 1-3; BLAKE, Jason 1-1; WIDENER, Brandon 0-2; WEBER, Guye 0-1). Fouled
out--Mansfield University-None, Millersville University-None.
Rebounds--Mansfield University 39 (ANTHONY, Derrison 9; FANNICK, Tony 9),
Millersville University 30 (BLAKE, Jason 7). Assists--Mansfield University
15 (FANNICK, Tony 4; ANTHONY, Derrison 4), Millersville University 7 (BLAKE,
Jason 4). Total fouls--Mansfield University 19, Millersville University 15.
Technical fouls--Mansfield University-CALLAHAN, Ryan, Millersville
University-AHMETOVIC, Alen. A-985
Mansfield clinches the PSAC Eastern Division