RELEASE DATE: 12/21/09
FOR IMMEDIATE RELEASE: Mansfield downs Lynn 91-88 behind Ryan Callahanís game-high 26 points.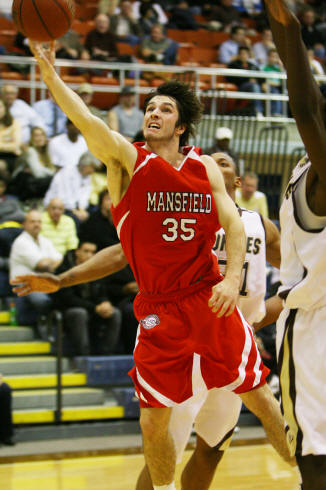 BOCA RATON, FL Ė Ryan Callahan and Yuseff Carr combined for 48 points to lead Mansfield to a 91-88 win over host Lynn University in the final round of the Courtyard by Marriott Holiday Classic Monday night in Boca Raton.
"I don't smile after many games," said head coach Rich Miller. "but I'm smiling tonight, We played very well very and we needed to. We got great performances from a lot of people including Ryan, Yuseff, and Anthony Derrison who did a great job subbing for Tony. It was like night and day compared to last night."
It was vindication for the Mountaineers who had suffered their worst defeat in head coach Rich Millerís five-year tenure a night earlier in a stunning 86-51 loss to Barry University. Lynn, who lost in OT to #16 Valdosta State in the first round, dropped its second heart-breaker in two days.
Mansfield trailed the entire first half before taking its first lead five minutes into the second half and built that lead to as many as 13 points with just under six minutes to play before holding on for the win.
Lynn was almost unstoppable early in the game hitting 12 of its first 15 shots from the floor (80%) in building a 30-19 lead over the first ten minutes of the game. Mansfield hung close, closing the gap to 42-41 on a 3-pointer by Chris Pender with just over a minute to play in the first half.
Lynn, which led 44-41 at halftime, was held scoreless for the first five minutes of the season half as Mansfield used a 10-0 run to start the second half, taking a their first lead of the night at 46-44 on a floater by Justin Simmons.
Mansfield, which shot 56% from the floor in the second half, looked as if it may run away with the game when Callahan hit a layup with 5:52 to go to put the Mountaineers up 77-64 but Lynn refused to quit.
Mansfield still led 81-72 on a free throw by Lavail Owens with 2:05 to go but Lynn pulled to 90-88 with 12 second remaining before Owens hit another free throw. A 3-pointer by Lynnís Chris Hall with two second left rimmed out and time expired.
Callahan scored a season-high 26 points including 10-13 from the free throw line while pulling down seven rebounds. Carr recorded a double-double with 22 points and 12 rebounds while Anthony Derrison came off the bench for the foul-plagued Tony Fannick and added 12 points and six rebounds. Chris Pender scored 11 points.
Fannick, who led the Mountaineers in scoring averaging more than 15 points per game coming into the contest, scored just one point Ė the lowest offensive production of his career.
Hall topped five players in double figures with 24 points for Lynn (4-6).
The win snapped a three-game losing streak for the Mountaineers who improved to 5-3 on the season.