RELEASE DATE: 1/03/10
FOR IMMEDIATE RELEASE: Mansfield men down Lock Haven 77-66 behind Carr and Pender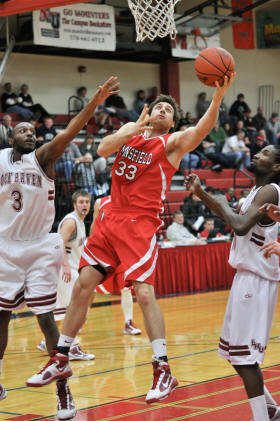 MANSFIELD – Yuseff Carr and Chris Pender combined for 35 points to help lead Mansfield to a 77-66 win over Lock Haven in a PSAC crossover contest Sunday afternoon in Decker Gymnasium.
Carr was unstoppable early scoring 14 of Mansfield's first 18 points in the first ten minutes of the game as the Mountaineers took a 33-30 halftime advantage.
Lock Haven held a 41-40 lead seven minutes into the second half when Mansfield went on a 11-0 run, keyed by pair of 3-pointers from Tony Fannick and another one by Donny Lyons, to take a 51-41 lead with 10 minutes to play.
Mansfield extended its lead to 67-52 with just over five minutes left before Lock Haven went on a 10-0 run to cut the lead to 67-62 with two and a half minutes to play.
Carr hit a layup with 1:21 left to put the lead back to 71-64 and the Mountaineers connected on four of five free throws over the final minute to ice the game.
Carr recorded his third double-double of the season with 11 rebounds in addition to his team-high 19 points while Pender scored 16 points, including four 3-pointers. Derrison cameAnthony off the bench to score 14 points and Fannick added 12.
Dalexis Pena led Lock Haven (3-6) with a game-high 21 points.
Mansfield travels to Clarion and Gannon this weekend.