RELEASE DATE: 12/12/09
FOR IMMEDIATE RELEASE: Le Moyne holds on for 74-72 win over Mansfield men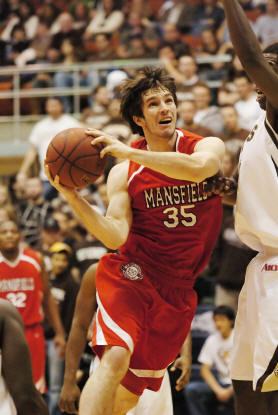 SYRACUSE – Ryan Callahan scored 17 points and Tony Fannick added a double-double but Le Moyne took the lead midway through the second half and held on for a 74-72 win over Mansfield Saturday night.
Mansfield (4-2) led 31-26 at halftime and extended the lead to 43-35 on a layup by Lavail Owens five minutes into the second half. But after Owens basket, Mansfield went cold from the field and Le Moyne mounted a 20-5 run to take a 55-48 lead seven minutes later.
Le Moyne held a 69-60 lead with 2:20 to play before Mansfield staged a last minute rally pulling to 70-68 on a Chris Pender 3-pointer with 1:10 to go.
Fannick added 14 points and 10 rebounds while Yuseff Carr and Pender each had 12 points. Anthony Derrison scored 10 points and pulled down eight rebounds.
Laurence Ekperigin led Le Moyne (6-4) with a game-high 18 points and 11 rebounds. Kevin Roth scored 17 points.
Mansfield took 31 3-pointers, hitting 11 of them, and held a 48-38 rebounding advantage. Le Moyne connected on 14-27 free throws to Manfield's 5-9.
The loss was the second straight for the Mountaineers since opening the season with four straight wins. Both losses have come by a combined total of five points.
It was the first away game of the season for the Mountaineers who will travel to Florida follow final exams this week.