RELEASE DATE: 1/20/10
FOR IMMEDIATE RELEASE: Mansfield knocks off No. 2 ranked Kutztown 94-87 to take over sole possession of the PSAC East – Yuseff Carr and Ryan Callahan combine for 51 points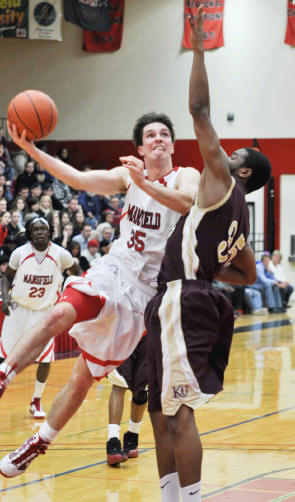 MANSFIELD – Yuseff Carr and Ryan Callahan combined for 51 points and Mansfield outscored Kutztown 7-0 over the final 36 seconds of the game in a 94-87 win before a large and boisterous crowd Wednesday night at Decker Gymnasium.
"Our guys believed they could win going into the game," said head coach Rich Miller. "Kutztown is No. 2 in the country but we played these guys a lot including three times last year so we know them we pretty well. We know how good they are but we also know we're a pretty good team too and we believed if we played our style of basketball we could beat them."
It was a tightly played game for much of the evening featuring 16 lead changes and 10 ties.
Mansfield took a 45-39 halftime advantage and increased the lead to 49-41 on a layup by Carr in the first minute of the game.
But Kutztown came back and took a 54-53 lead two minutes later on a 3-pointer by Ivory Wells and it remained a one possession game until the final two seconds of play.
Mansfield trailed 87-85 when Steve Coffey hit a 3-pointer for Kutztown with 1:14 remaining but Callahan tied the score at 87-87 with a layup eights second later and then hit 7-of-8 free throws over the last 36 seconds to give Mansfield one of its biggest regular season wins in school history.
"We knew they were going to be able to score," said Miller. "But holding them scoreless over the final minute was what decided the game. Derrison (Anthony) made two huge defensive plays in the last seconds and that's what saved the game."
In the final eight seconds Anthony forced a Kutztown turnover and then blocked Stephen Dennis's game-tying 3-point attempt with two seconds left to preserve the win. Kutztown fouled Callahan on the rebound and Mansfield got two more free throws on a technical foul with Callahan hitting all four free throws.
Carr, who had three fouls in the first half, had an exceptional game posting a double-double with 26 points and 12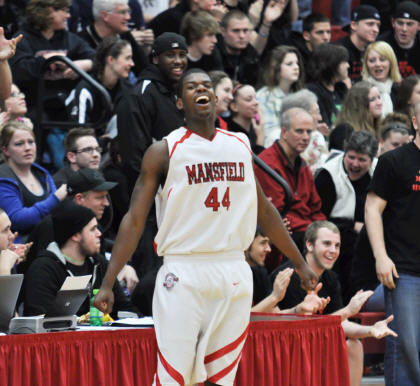 rebounds. Callahan added 25 points including a 17-for-19 performance from the free throw line. Anthony and Chris Pender each scored 14 points with Anthony also pulling down seven rebounds and Pender hitting four 3-pointers. Justin Simmons added eight points and five assists.
Dennis led Kutztown with a game-high 36 points while Ryan Washington added 15 points and 12 rebounds.
"You look at the stat sheet and you see the key to the game was offense rebounds and turnovers, "said Miller. "We held them to five offense rebounds while pulling down 18 and we turned the ball over just eight times."
Mansfield takes over sole possession of first place in the PSAC East with a 3-0 conference mark and improves to 12-4 while extending its winning-streak to six games.
Kutztown, one of just five undefeated teams in NCAA Division II coming into the game, suffered its first loss in 15 games on the year and goes to 2-1 in PSAC East play.
Mansfield travels to West Chester Saturday.