RELEASE DATE: 1/19/10
FOR IMMEDIATE RELEASE: Mansfield host No. 2 ranked Kutztown for first-place in PSAC East Wednesday at Decker Gymnasium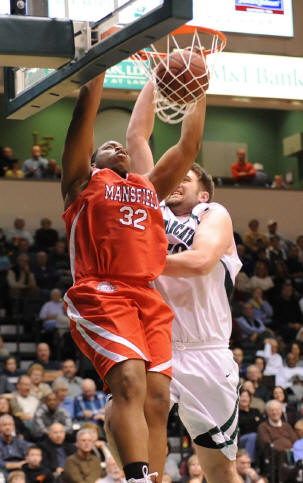 MANSFIELD – The two hottest teams in the Pennsylvania State Athletic Conference will square off for first-place in the PSAC East when the Mansfield University Mountaineers host undefeated and No. 2 ranked Kutztown Wednesday night in Decker Gymnasium.
Admission is $5 for adults and $3 for students with MU students admitted free with ID.
The games will also be streamed live on the internet at www.GoMounties.com.
The Mansfield women will play Kutztown at 5:30 p.m. followed by the first-place showdown between the Mountaineer men and the Golden Bears in what promises to be one of the biggest game in NCAA Division II that day.
Kutztown is one of just five remaining unbeaten teams in NCAA Division II.
"It's going to be a very challenging game," said head coach Rich Miller. "I think we're ready for the challenge. We've worked hard to get into this position and we'll be as ready as we can be Wednesday night."
While Kutztown (14-0, 2-0 PSAC East) is undefeated on the season and moved up from No. 3 to No. 2 in the nation in the latest NCAA Division II national poll released today, Mansfield (11-4, 2-0 PSAC East) has also been hot of late winning its last five games in a row and seven of its last eight.
The game features two of the top scoring offenses in the league and many of the PSAC's top players.
Kutztown ranked first in the PSAC in scoring averaging 85.6 points per game while Mansfield ranks sixth in the conference at 79.0 points per outing. Kutztown has the 11th best scoring defense (70.7 ppg) while Mansfield is 12th at 71.3 ppg.
"There are a number of reasons they're the second-ranked team in the nation and three of those reasons are Stephen Dennis, Ryan Washington and Julius Gray," said Miller. "We need to be as focused on what we need to do as we are one what they can do."
Kutztown point guard Stephen Dennis leads the PSAC in scoring averaging 26.5 points per game while junior forward Ryan Washington is third in the conference at 21.0 points per contest. Junior Julius Gray is the 12th highest scorer in the PSAC this season at 15.1 points per game.
Mansfield will counter with junior forward Yuseff Carr along with senior guards Ryan Callahan and Chris Pender. The 6-6, 285 Carr ranks 8th in the PSAC in scoring (16.1 ppg) and 5th in rebounding (8.9 rpg). He also ranks among the conference field goal percentage and shot block leaders.
Callahan is 20th in the PSAC in scoring averaging 13.9 points per game and also ranks among the assists and 3-point field shooters in the conference. Pender is averaging 11.1 points per contest.