RELEASE DATE: 3/02/10
FOR IMMEDIATE RELEASE: Kutztown outlast Mansfield 65-61 in PSAC quarterfinal
YouTube of Game -- http://www.youtube.com/watch?v=_ZuF_DO2xyI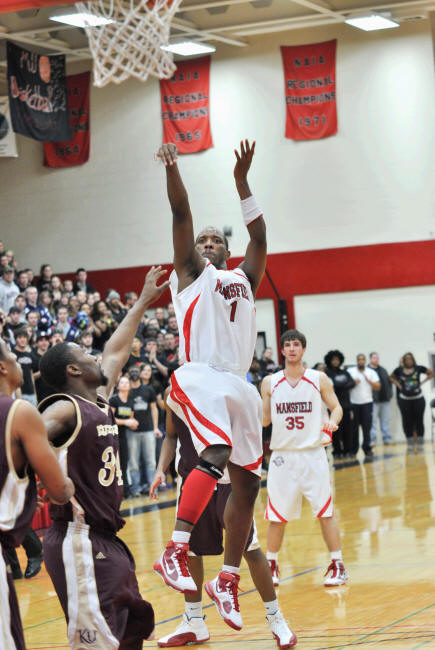 MANSFIELD – Mansfield's Yuseff Carr and Ryan Callahan combined for 38 points but it wouldn't be enough to offset a combined 48 points by Stephen Dennis and Julius Gray as Kutztown outlasted Mansfield 65-61 in a PSAC quarterfinal playoff game at a loud Decker Gymnasium Tuesday night.
"You have got to be able to make open shots against a zone," said head coach Rich Miller. "We didn't do that tonight and it was as simple as that. We played hard, but we just couldn't make an open shot when we needed to."
Kutztown jumped out to a 12 point lead midway through the first half taking a 24-12 advantage on a jumper by Ryan Washington. Mansfield went on a 14-2 rally over the final 10 minutes of the close the gap to 30-26 at halftime.
Mansfield, which shot 25% from the floor in the first half to Kutztown's 54.2% got 10 first half points from Carr.
Kutztown increased its lead to 49-37 with just over 11 minutes to play on a jumper by Stephen Dennis before Mansfield started a slow march back going on a 10-0 run to cut the lead to 48-47 on a jumper by Carr with 7:09 to go.
Mansfield trailed 55-53 when Carr sank a pair of free throws with 1:35 to play but Julius Gray hit a jumper four second later and Mansfield could pull no closer.
Mansfield shot 31.7% from the floor, its second-lowest showing of the season making just 19-of-60 shots from the field.
Carr scored 20 points with eight rebounds while Callahan had18 points and Justin Simmons 12.
Dennis and Gray each scored 24 for Kutztown.
Mansfield (19-9) is on the bubble for an NCAA regional bid with the latest regional rankings coming out tomorrow.
Kutztown advances to the PSAC Final Four which will be held at East Stroudsburg on Friday and Saturday.