RELEASE DATE: 1/10/10
FOR IMMEDIATE RELEASE: Mansfield men win third straight with 70-59 win at Gannon to improve to 9-4 on season – Ryan Callahan and Yuseff Carr combine for 39 points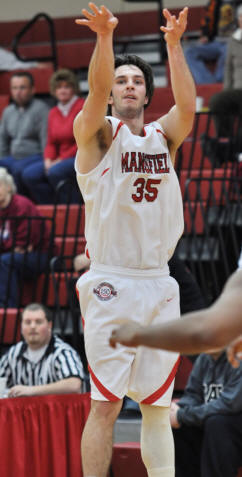 ERIE – Senior Ryan Callahan scored a game-high 23 points to lead Mansfield to a 70-59 win over Gannon in a PSAC crossover game at the Hammermill Center Sunday afternoon.
"For 34 of the 40 minutes we played pretty darn well on defense," said head coach Rich Miller. "As a team we played hard and with effort and emotion and that's a big key when your playing back-to-back games on the road."
Mansfield trailed 15-10 midway through the first half before closing out with a 20-9 run to take a 30-24 lead into halftime.
Gannon didn't score a field goal for more than the first six minutes of the second half and Mansfield used a 14-4 run to take a 44-28 lead on Derrison Anthony's 3-pointer at the 14:09 mark. The Mountaineers continued to increase their lead and held a game-high 53-32 advantage on a layup by Yuseff Carr with just under nine minutes to play.
"Yuseff got into foul trouble early in the first half and only played seven minutes," explained Miller. "We told him going into halftime to get ready to play a lot of minutes in the second half. He was ready and really dominated inside playing the entire final 20 minutes of the game."
Carr, who scored just four first half points, had 12 points in the second half and recorded his third straight double-double with a game-high 10 rebounds.
Gannon, which hit just 1-of-11 3-pointers in the first half, got back into the game via the 3-ball connecting on five 3-pointers over the final minutes of the game to close the gap to 65-59 when Travis Brannen hit a jumper with 33 seconds to play.
But Mansfield connected on 9-of-10 free throws, including 7-of-8 by Callahan, over the final minute to preserve the win.
In addition to Callahan's 23 points and Carr's 16, Chris Pender added nine points – all coming on 3-pointers. Donny Lyons had a strong game off the bench scoring eight points.
Mansfield held a 40-32 rebounding advantage and connected on 16-of-21 free throw attempts.
George Johnson led three Gannon (5-7) players in double figures with 21 points with Travis Brannen scoring 14 points and James Bryant 11 points.
It marked the third straight win for the Mountaineers who improved to 9-4 on the season. Mansfield wound up going 3-1 against PSAC West competition in the conference crossover games.
The Mountaineers open the PSAC East season at Shippensburg on Wednesday.