RELEASE DATE: 12/19/09
FOR IMMEDIATE RELEASE: Mansfield men face tough test at Double Tree Guest Suites Holiday Classic in Boca Raton Sunday and Monday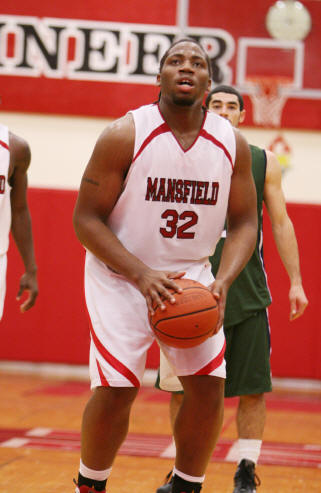 MANSFIELD Ė The Mansfield University menís basketball team will face a couple of stiff test when the Mountaineers play Barry University and Lynn University this Sunday and Monday in Boca Raton, FL as part of the Doubletree Guest Suites Holiday Classic.
You can listen to the games and follow live stats through links located at www.GoMounties.com.
Mansfield, which started the season with four straight wins before dropping back-to-back games to Mercyhurst and Le Moyne by a total of five points, will play Barry University on Sunday at 5 p.m. before playing host Lynn University at 7 p.m. on Monday.
Mansfield ranks fourth in the PSAC in scoring averaging 86.7 points per game. The Mountaineers boast three of the top 15 scorers in the conference in sophomore forward Tony Fannick (16.5 ppg), junior forward Yuseff Carr (15.5 ppg) and senior guard Ryan Callahan (14.8 ppg). Fannick (6.8 rpg) and Carr (6.5 rpg) also rank among the top 20 rebounders in the PSAC.
Barry, a member of the Sunshine State Conference, is 7-2 on the season including an 83-77 loss to #4 ranked Florida Southern.
The Buccaneers are led by senior guards Erick Nsangou and Tony Dennison. Nsangou, a native of Cameroon, is a transfer from Division I Florida International University and is averaging 21.4 points and 6.3 rebounds per game. Dennison is a transfer from Division I Hofstra and was a two-time NJCAA All-American at Broward College before going to Hofstra. Dennison is averaging 19.0 points per game.
Mansfield and Barry have met just once before on the basketball court with the Mountaineers claiming a 70-59 victory in the 1985-86 season.
Lynn University, also a member of the Sunshine State Conference is 4-4 on the season with three wins in their last four games. The Knights are led by junior guard Chris Hall who averages 16.9 points per game. Also averaging in double-figures are junior Jovan Robinson (11.9 ppg) who started at Division I Canisius before transferring to Lynn and junior guard Rodney Kennedy (11.4 ppg) who transferred from Enterprise-Ozark CC in Alabama.
It marks the first time Mansfield and Lynn have faced each other on the basketball court.