RELEASE DATE: 2/17/10
FOR IMMEDIATE RELEASE: Mansfield men rally to upset No. 17 East Stroudsburg 71-61 – Yuseff Carr has double-double with game high 21 points and 10 rebounds -- Callahan scores 1,000 point in Mansfield uniform
Click for youtube video of game -- http://www.youtube.com/watch?v=Hcw8tokXTes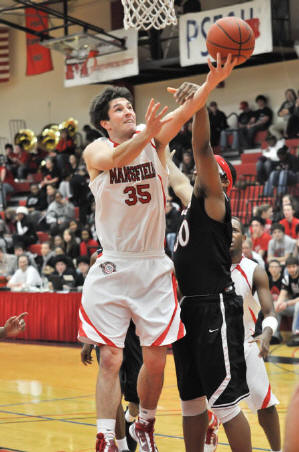 MANSFIELD – For the second time in under a month the Mansfield University men's basketball team team beat a nationally-ranked team when the Mountaineers, behind Yuseff Carr's 21 point, 10 rebound performance, knocked-off No. 17 East Stroudsburg 71-61 in a key PSAC East contest Wednesday night.
"When we were down by nine midway through the second half, we just knew we had to get the ball inside," said head coach Rich Miller. "We were able to do that and Yuseff hit some baskets that cause the outside to open up and then Ryan (Callahan) came through with some big three's."
Mansfield (16-8, 7-4 PSAC East) trailed 35-29 at halftime and by as much as 42-31 early in the second half before the Mountaineers slowly chipped away.
A Callahan 3-pointer midway through the second half cut the led to 49-47 and Mansfield took its first lead since early in the first half a minute later 52-51 on a pair of Callahan free throws.
Mansfield extended the lead to 64-57 with just over two minutes to play on a pair of free throws by Tony Fannick and another layup by Fannick with 1:06 to go sealed the win.
Carr, who played through an illness, recorded his ninth double-double of the season with his 21 point, 10 rebound effort. He also blocked three shots. Callahan, who scored his career 1,000 point last week against Kutztown, got his 1,000 point in a Mansfield uniform in the last bucket of the first half. Callahan, who scored 31 points as a freshman at Division I Wagner College before transferring to Mansfield, had 19 points in the game along with four assists and six rebounds. Senior Chris Pender also added 12 points.
Robby Pines topped East Stroudsburg (20-4, 7-4 PSAC East) with 14 points while Micah Covert and Duane Johnson each scored 10 points apiece.
The win puts Mansfield into a tie with East Stroudsburg and Kutztown for second place in the PSAC East one game behind first-place Cheyney. Mansfield has beaten Cheyney twice on the season.
Mansfield held to top scoring team in the PSAC to 20 points below its average and held a 43-34 rebounding advantage.
Mansfield will host West Chester on Saturday for Senior Day.