RELEASE DATE: 2/16/10
FOR IMMEDIATE RELEASE: Mounties host East Stroudsburg in key games on Wednesday Ė Warrior men ranked No. 17 in latest national poll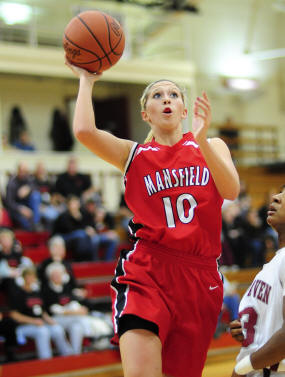 MANSFIELD Ė The stakes couldnít be much bigger when the Mansfield University womenís and menís basketball teams host the Warriors of East Stroudsburg this Wednesday night at Decker Gymnasium.
The women tip-off at 5:30 followed by the menís game at 7:30 p.m. The game will also be carried live on WNTE 89.5 FM and with Shane Wilber broadcasting the game live on the internet at www.GoMounties.com.
While the womenís game is expected to be very competitive while the menís outcome will play a part in deciding who will be the PSAC East champions.
The Mansfield women came away from East Stroudsburg with a 47-44 win earlier this season behind sophomore Mallory Moore who recorded a double-double with a game-high 19 points and 14 rebounds. It was the Mountaineers first and only PSAC East win of the season and their first road victory in three years.
Moore has been the Mountaineers most consistent player this season and ranks 18th in the PSAC in scoring (12.9 ppg) and 6th in the conference in rebounding averaging 8.6 boards per game. Grad student Mallory Hafer ranks 30th in the PSAC in scoring (10.5 ppg) and is among the top 3-point shooters in the conference.
East Stroudsburg also has one conference win on the season beating Shippensburg 58-55. The Warriors are 0-8 on the road this year. The Warriors are led by senior DeAnna Rayam who ranks 12th in the conference in scoring averaging 14.5 points per game.
The menís game is one of the top contests all of NCAA Division II on Wednesday night with both teams in the running for the PSAC East title. Mansfield is currently in fourth place in the PSAC East with a 6-4 overall record after pulling off a thrilling 81-80 at Cheyney Saturday afternoon.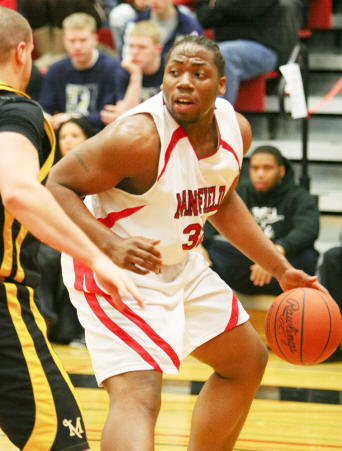 East Stroudsburg is ranked No. 17 in the latest Division II poll and is tied with Kutztown and Cheyney for first place in the PSAC East with 7-3 marks. East Stroudsburg lost 65-63 decision to Kutztown Monday night and all three of the Warrior losses have come to PSAC East foes (Bloomsburg and twice to Kutztown) by a total of seven points.
East Stroudsburg edged Mansfield 67-65 in overtime earlier in the season at East Stroudsburg despite a 25 point, 11 rebound performance from the Mountaineers Yuseff Carr.
Carr tops five Mountaineers who average double-figures on the season with 16.5 points per game and ranks among the conference rebound leaders averaging 8.7 boards per game. Senior guard Ryan Callahan averaged more than 20 points per game last week and is sporting a 15.1 points per game averaging on the season. Sophomore Tony Fannick is slowly rounding back into top shape after missing a stretch of games and averages 10.9 points per game. Senior guard Chris Pender and junior forward Derrison Anthony are averaging 10.4 and 10.2 points per game respectively.
East Stroudsburg is the second leading scoring team in the PSAC (81.1 ppg) and the Warriors, who use a deep bench, are led by senior guard Andy Heimback who averages 13.4 points per game.
The rivalry has proved intensely competitive as of late with two of the last three meetings at Decker Gymnasium going into overtime. Mansfield posted a 84-79 win last year.
2009-10 PSAC Men's Basketball Standings
2009-10 Men's Basketball Standings
School

Conf

CPct.

Overall

Pct.

Streak

East

7-3

0.700

20-3

0.870

L1

7-3

0.700

20-3

0.870

W3

7-3

0.700

14-9

0.609

W1

6-4

0.600

15-8

0.652

W1

4-6

0.400

10-12

0.455

W2

3-7

0.300

14-9

0.609

L2

3-7

0.300

10-13

0.435

L2

3-7

0.300

8-15

0.348

W1

West

9-1

0.900

20-2

0.909

W2

7-3

0.700

15-8

0.652

L2

6-4

0.600

11-12

0.478

L1

5-5

0.500

15-8

0.652

L2

4-6

0.400

16-9

0.640

W4

3-7

0.300

14-9

0.609

W1

3-7

0.300

9-14

0.391

L1

3-7

0.300

6-15

0.286

L2