RELEASE DATE: 1/02/10
FOR IMMEDIATE RELEASE: Edinboro pulls away in second half in 85-74 win over Mansfield – Tony Fannick scores a game-high 19 points for Mounties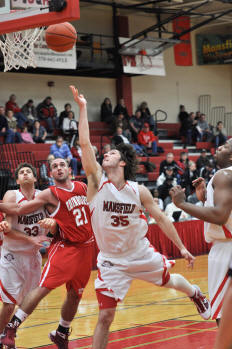 MANSFIELD – Tony Fannick scored a game-high 19 points but it couldn't compensate for 19 Mansfield turnovers in an 85-74 loss to Edinboro in a PSAC crossover contest Saturday afternoon in Decker Gymnasium.
Mansfield (6-4) led 12-5 after the first four minutes and held a 36-28 lead on a layup and free throw from Ryan Callahan with just over five minutes to play in the first half.
Edinboro (6-3) cut the lead to 42-40 at halftime and took a 48-45 advantage two minutes into the second half on a 3-pointer by Danny Walsh.
The two teams remained locked in a tight game with Mansfield retaking the lead 62-61 on a Callahan layup with 9:30 to go. Mansfield trailed 75-72 with just under four minutes to play but Edinboro closed out the game with a 10-2 run to earn the win.
Mansfield was hampered by 19 turnovers, their second most in a game this season, while Edinboro recorded 13 steals including eight by Bobby Stauffer.
Fannick connected on a career-high five 3-pointers in the game while Callahan added 17 points, five assists and three steals. Justin Simmons and Yuseff Carr each scored 10 points.
Cory Somerville led five Edinboro players in double-figures with 17 points while also pulling down a game-high 10 rebounds.
Mansfield host Lock Haven Sunday afternoon.