RELEASE DATE: 11/29/09
FOR IMMEDIATE RELEASE: Mansfield men expect a test from Penn State-DuBois on Monday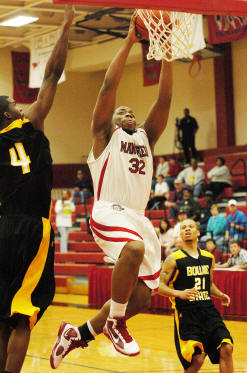 MANSFIELD – Mansfield University head basketball coach Rich Miller knows his undefeated Mountaineers will be the hands-on favorite to beat Penn State-DuBois when the two teams meet Monday night at 7 p.m. at Decker Gymnasium.
But don't expect him or the Mountaineers to be too overconfident.
Penn State-DuBois is ranked No. 2 in the nation in the latest USCAA Division 2 national poll and the Lions have already beaten NCAA Division III programs Alfred and Hilbert on their way to a 4-1 start. Sophomore forward Chris Dickison has recorded three double-doubles in the first five games of the season and ranks third in the country in the USCAA in scoring averaging 24.2 points per game. Senior guard Marcus Genevro is fifth in the nation in scoring averaging 20.8 points per game.
Mansfield, which opened the season with wins over Bowie State (83-73) and the University of the District of Columbia (81-74) has four players averaging in double figures led by junior forward Yuseff Carr's 23.0 points per game.
Carr, who goes 6-6, 286, is also averaging 8.5 rebounds per game while connecting on a stunning 80% of his shots from the floor. Sophomore forward Tony Fannick has been started off almost as impressive as Carr averaging 19.0 points and 10.0 rebounds over the first two games of the season.
Senior guards Ryan Callahan and Chris Pender are averaging 15.5 and 10.0 points per game respectively.
Mansfield will host Penn College on Tuesday. All MU faculty and staff along with their families are invited to attend Tuesday's game for free.
###