RELEASE DATE: 1/09/09
FOR IMMEDIATE RELEASE: Ryan Callahan scores game-high 20 points to top four Mountaineers in double-figures in 73-61 win at Clarion – Mounties improve to 8-4 on season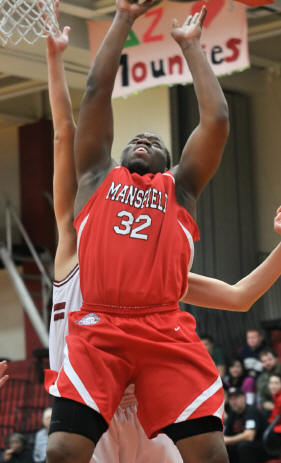 CLARION – Senior Ryan Callahan topped four Mountaineers in double-figures with a game-high 20 points to help Mansfield to a 73-61 win at Clarion in a PSAC crossover contest Saturday afternoon.
"I thought we did a good job for the most part," said head coach Rich Miller. "Especially since we were shorthanded without Tony (Fannick) and Levail (Owens). Clarion didn't play especially well, but when you hold the top scoring team in the conference to a season-low 61 points that usually means you did a pretty decent job defensively."
Mansfield (8-4) jumped out to an early 12-4 lead on a layup by Yuseff Carr three minutes into the game and held a 26-25 halftime advantage.
The game remained tight through much of the second half until Mansfield took a 55-47 lead on a 3-pointer by Chris Pender with just over six minutes to play. Clarion closed the gap 64-57 to on a jumper by Mike Nealis with 2:07 left but another 3-pointer by Pender 26 seconds later gave Mansfield its first double-digit lead of the game.
"We stayed aggressive offensively all the way to the end of the game and that's something we haven't always done this year," Miller explained.
It was a surprisingly low scoring contest that featured two of the top scoring teams in the PSAC (Clarion 1st – 87.8 ppg; Mansfield 5th – 81.3 ppg). Mansfield held a 44-33 rebounding advantage with 19 of them coming on the offensive end.
Callahan's 20 points included a 14-18 performance from the free throw line while Mansfield got double-doubles from Yuseff Carr (16 points, 14 rebounds) along with 11 points and 12 rebounds from Derrison Anthony who started for Fannick. Anthony also dished out a game-high five assists, blocked four shots and recorded three steals. Pender added 14 points with nine of them coming off 3-pointers.
"I knew Darrison (Anthony) would do a good job and he certainly did," said Miller. "But we also got solid minutes out of freshmen Cory Henneghan and Breland Roach. They didn't score but they made good decision out there and that's really what we needed them to do."
Lloyd Harrison led three Clarion (7-5) players in double-figures with 15 points. Jamar Harrison scored 12 points and Shameel Carty added 11 points.
Mansfield travels to Gannon on Sunday before opening the PSAC East schedule at Shippensburg on Wednesday.